Dr Bharati Pravin Pawar chairs the Sixth Session of the Meeting of Ministers of Health of SCO member states under the theme "SECURE SCO"
Union Minister of State for Health and Family Welfare, Dr Bharati Pravin Pawar chaired the virtually-held sixth session of the Health Ministers meeting of the Shanghai Corporation Organization (SCO) member states, here today. Union Minister of Ayush, Shri Sarbananda Sonowal delivered the keynote address. The meeting was also attended by high-level stakeholders and partners including Health Ministers of all SCO member states, Dr Tedros Ghebreyesus, Director General, World Health Organization (WHO), and Mr. Jhang Ming, SCO Secretary-General.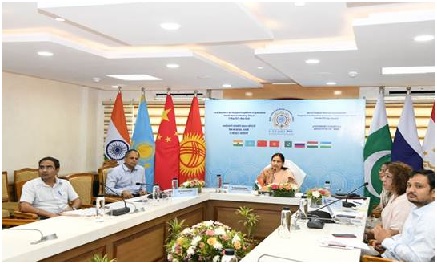 India organized various consultation and negotiation meetings under the SCO Presidency including a health expert working group meeting and four side events throughout the year. Highlighting the efforts of all SCO member states, Dr Bharati Pravin Pawar in her welcome address noted that the discussions will help take the world a step closer in the direction of achieving Universal Health Coverage. She welcomed all delegates and noted that the meeting embodies the Indian philosophy of 'Vasudhaiva Kutumbakam' i.e., 'whole world is one family'.
Dr Bharati Pawar stated that collective efforts by the SCO towards creating long-lasting positive impact for the betterment of mankind will guarantee health security for citizens, elevate global health as a top priority for economic development, and foster a united front to overcome challenges.
Highlighting the unprecedented challenges to global healthcare landscape due to COVID-19, Dr Pawar underlined the need for a unified approach and global collaborations to mitigate its impact. "The fact that we are here today, united and committed to each other, despite the challenging times, is a testament to our dedication and resilience", she stated. She further noted that "establishing strong surveillance systems for early detection of health emergencies and promoting collaborative research and development, as well as medical countermeasure production among SCO nations, are vital steps towards achieving these goals".
Underscoring the role of technology in improving last mile delivery of healthcare services, the Union Minister said that "Digital Health interventions can bridge the existing gap among different stakeholders of healthcare ecosystem. Sharing of digital public goods within SCO nations will help in achieving the goal of Universal Health Coverage through usage of technological advancements in the field of healthcare delivery".
On the need for addressing the burden of non-communicable diseases, Dr Pawar highlighted the "need for collaboration on holistic management of non-communicable diseases through lifestyle modification, behavior change, and integration of NCD services at all levels of healthcare among the SCO member states as a preventive, promotive and curative approach to deal with NCDs".
Dr Pawar also urged the SCO member states to recognize the potential of medical value travel in promoting and exploring the ways to collaborate and exchange best practices within the region. She also informed the gathering that the establishment of the World Health Organization's Global Centre for Traditional Medicine (GCTM) in India aims to facilitate joint efforts between SCO member nations in leveraging both modern and traditional medicine systems.
Union Minister of AYUSH, Shri Sarbananda Sonowal urged the SCO members to work together to recognize the potential of medical value travel in promoting and exploring ways to collaborate and exchange best practices within the region. He added that embracing modern technologies while also preserving traditional systems will provide a holistic healing experience to patients across the region.
He noted that the concept of 'One Health' has drawn significant attention in last 3-4 years. He stated that "the holistic approach to health and well-being taking into consideration the human-being along with the entire ecology, including animals, plants, soil, air, water, weather, etc., explained in ancient philosophies and adopted in different ancient systems of medicine are of high significance while addressing 'One Health'".
Highlighting India's rich heritage of traditional systems of medicine, Shri Sarbananda Sonowal stated that "traditional systems of medicine like Ayurveda is an important form of healthcare system which is holistic and people-centric". He informed that the World Health Organization is encouraging member states to develop enabling policies and regulations to promote, regulate and integrate the traditional systems of medicine while ensuring their safety and quality. "Ayurveda and Yoga are Indian traditional systems of medicine and health, which are popular worldwide and are utilized by people to improve their health", he stated.
Dr Tedros Ghebreyesus highlighted that parallel processes are underway to address the critical gaps in international health regulations. Urging member states to treat health as an investment rather than a cost, he emphasized on revamping global health infrastructure to prepare for future health emergencies.
Shri S Gopalakrishnan, Special Secretary, Health Ministry gave a detailed overview of the multiple side events conducted during the Indian Presidency wherein subject matter experts deliberated on the key health priorities identified under India's SCO Presidency. He stated that the experts were in convergence on a broad framework of activities for coordination and collaboration between SCO Member States.
India holds the rotating Presidency of the Shanghai Corporation Organization (SCO) - a regional intergovernmental organization, representing 42% of the world's population, 22% of its land area, and contributing 20% to global GDP and comprises eight Member States (China, India, Kazakhstan, Kyrgyzstan, Russia, Pakistan, Tajikistan, and Uzbekistan).
The theme of the Indian SCO Presidency is to create long-lasting positive impact for the betterment of mankind and work together towards a "SECURE SCO". To this end, the health priorities identified by India for the SCO include Health Emergencies Prevention, Preparedness and Response, Digital Health, Non-Communicable Diseases, and Medical Value Travel. India aims to achieve convergence in discussions across various multilateral fora engaged in health cooperation, therefore these priorities are also aligned with India's G20 Presidency.
During the meeting, officials were engaged in fruitful deliberations about the health priorities that identified by India for its Presidency. Focus remained on topics such as Global Health Architecture for Health Emergency Prevention, Preparedness, and Response; Digital Health; Strengthening National Monitoring and Surveillance Systems; and Multi-Stakeholder Collaboration for Mitigating the burden of Non-Communicable Diseases; and Enhancing Access to Affordable and Quality Healthcare through Medical Value Travel among the SCO member states. This was followed by interventions by Health Ministers of all SCO member states who supported India's ambitious and action-oriented agenda while expressing hope for the adoption of the SCO declaration.
Toward the end of the meeting, the member countries adopted the Final Statement of the Sixth Meeting of SCO Health Ministers. This declaration will lay the groundwork for healthcare cooperation and partnerships to achieve the Sustainable Development Goal of promoting good health and well-being among SCO member countries.
The Union Minister of State for Health and Family Welfare, Dr Bharati Pravin Pawar concluded the session by quoting the Hon'ble Prime Minister's statement that 'In Unity lies our biggest strength and expressed hope that the SCO countries will act as a pedagogy for the shared commitment towards regional collaboration in achieving common goals and creating a world where everyone can live with equality and dignity, and free of ill health".