Mandaviya hails Modi for facilitating quality motherhood
New Delhi, February 10 (PIB): Union Minister for Chemicals & Fertilizers and Health & Family Welfare Dr. Mansukh Mandaviya said that Assisted Reproductive Technology (ART) and Surrogacy Bill strives to provide patients with better medical care and security. He also said that new techniques and technologies in Assisted Reproductive Technologies have vastly benefitted patients, leading to increase in awareness for cause and infertility.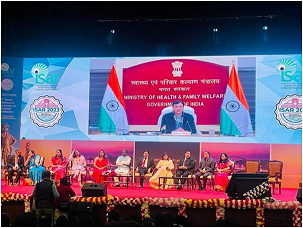 Virtually addressing the 27th annual Indian Society of Assisted Reproduction (ISAR) conference in Bhopal recently in presence of Mangubhai Patel, Honourable Governor of Madhya Pradesh, the Union Health and Welfare Minister lauded Prime Minister Narendra Modi's efforts for facilitating quality motherhood which resulted in lowering Maternal Mortality Rate (MMR). He expressed hope that in coming years, India will make significant progress in ensuring the best facilities and care for fertility to couples.
Elaborating further, Dr.Mandaviya rued lack of menstrual hygiene as a significant initial factor for bring childlessness in couples. He said that to facilitate menstrual hygiene, Jan AushadhiKendras provide sanitary pads at Re 1/-. "The Indian government is committed towards fostering a holistic approach to health", he said.
The Health Minister lauded the efforts of ISAR for providing a forum for thousands of IVF, ART specialists, Gynaecologists, Embryologists and ART Technologists across the globe to gather, exchange knowledge, technical developments and innovations, in turn benefitting patients as well. He praised their efforts in generating awareness that this issue affects not just women but men as well stating that increased awareness would further strengthen women empowerment in our society.