The Lady Shri Ram College Alumni Association launches the first Group Plan for an all-woman alumni body
Women constitute 49% of the total population, but have only a 33% share of health insurance coverage. Walking the talk - the Lady Shri Ram College Alumni Association, ELSA, has launched an exclusive Health Insurance scheme for the Lady Shri Ram College alumni. This is the first such Group Plan for an all-woman alumni body in India and is being offered in partnership with Alyve Health and underwritten by Oriental Insurance.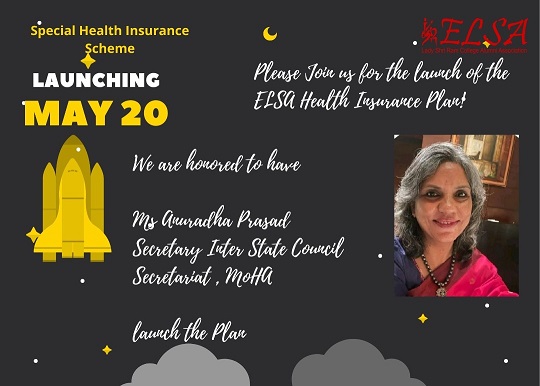 The launch will be anchored by Ms. Suki Iyer, the Honorary Secretary of the Association, who is a passionate advocate of women's empowerment. Ms. Anuradha Prasad, an alumna of the Lady Shri Ram College, and currently Secretary Inter State Council Secretariat, Ministry of Home Affairs,will be a guest speaker at the launch this Friday. Her work on labor welfare and social security has given her a unique insight into inclusion issues. The launch will be attended by all the stakeholders including a body of ELSA members.
Since personal and familial health protection is integral to the growth and stability of people regardless of demographics, ELSA has launched a thoughtful, specially designed and age-calibrated health insurance scheme for its members at competitive prices. The Association has launched a microsite, powered by Alyve Health, to enable alumni members to digitally purchase, manage and claim insurance at their fingertips.
Dr. Smita Premchander, the President of ELSA, highlights that "In these times of rising healthcare costs, this product is important for all, especially women. While women have seamlessly taken on the role of caregivers not just in families but also globally in healthcare work, their own healthcare needs go unattended. With the rising incidence of a whole range of diseases, and the lack of adequate social protection, more women are exposed to health vulnerabilities. Easy-to-access insurance products are the need of the hour.'
"It's a privilege to partner with ELSA to enable comprehensive health benefits to thousands of LSR alumni and their family members. We admire ELSA's mission to transform alumni lives through sustainable action and are committed to support this in the crucial aspect of health and well-being," said Shashank Avadhani, co-founder and CEO of Alyve Health.
The health insurance initiative for its alumni is a part of the efforts of ELSA to focus on women's healthcare in a holistic way, by procuring special preventive and treatment related healthcare packages for its members and their families.
-------------------------------------------------------------------------------------------------------------------------------
The LSR College Alumni Association (ELSA) is an inclusive and empowering community that "continues to nurture the LSR spirit of liberation through knowledge and transforms lives through sustainable support and action".