Over 250 adolescents vaccinated between age 12-14 at Naraina, Delhi
With the Government of India announcing vaccination for adolescents aged 12-14, a BJP youth leader in Delhi is taking up the mantle and providing the children with the required dose without financially burdening the parents with the cost of the vaccination.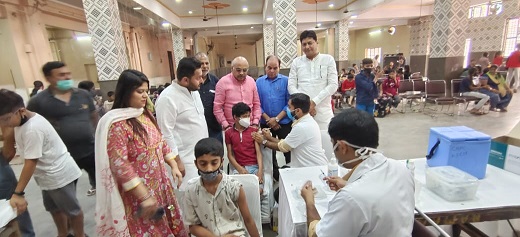 With an aim to reach out one and all, Umang Bajaj, Secretary – Youth Wing, Delhi Pradesh, BJP with the support from DM Office and Udaan NGO, took up the initiative to vaccinate the children aged 12 – 14 and bear the cost through private financing and community participation. This initiative was rolled out under the guidance of Shri Adesh Gupta, President, Delhi BJP.
In Delhi's Naraina's Mata Mandir and adjoining areas, BJP leader helps over 250 children to get the vaccinated on Saturday. The vaccination was administered to the children of Naraina for the first time in the presence of Rajesh Geol, President, Karol Bagh Distt. BJP, Ashok Goel Devra, Vice President BJP Delhi, Jai Prakash, Ex-Mayor North MCD, Suresh Sharma, Ex-President New Delhi distt, Deepali Kapoor, Gen Secretary and Umang Bajaj, Secretary – Youth Wing, Delhi Pradesh, BJP.
"This is a small step towards accomplishing Hon'ble PM Modi ji's vision that every person in India is fully vaccinated", expresses Young BJP Leader Umang Bajaj
"There is talk about the fourth wave of Covid which is expected by the middle of the year. I thought it was the right time to reach out to the children whose parents are from economically weaker sections and provide them with vaccine dose", said Umang Bajaj.
A labours son, Gaurav, who goes to a Delhi Government school in the area was all smiles after getting the vaccine though was a little scared initially. "It was a very nice gesture. Who cares for the poor. But Umang helped us and I feel that other children also take the benefit," says Gaurav's father.
Children were also given juice, snacks and water at the venue.
The vaccination for adolescents was started by the government in March and is costing Rs 380. So far approximately 190 crore vaccinations have been administered throughout the country.