The Lady Shri Ram College Alumni Association ( ELSA) celebrates the World Health Day with the Launch of a Health Insurance Scheme for its members
On the occasion of World Health Day, ELSA ( the Alumni Association of the prestigious Lady Shri Ram College for Women) has launched a unique Health Insurance Scheme for all its members in partnership with Alyve Health - a one of a kind digital platform that has successfully unlocked the power of health benefits for groups.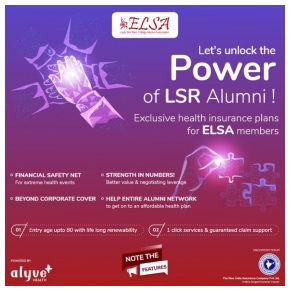 Indeed, the offer has some unique features : the policy itself has reduced or minimal waiting periods, no co-pay, can be used as stand-alone or top-up to existing insurance, covers parents / in-laws, going beyond the standard 65 year age for entry. The Alyve Health partnership offers alumni an easy to use interface for easy purchase and claims. Says Dr. Smita Premchander, President of ELSA: "In the times of rising healthcare costs, this product is important for all, especially women. While women have seamlessly taken on the role of caregivers not just in families but also globally in healthcare, their healthcare needs go attended. With rising incidence of cardiovascular illness, cancer and lack of adequate social protection, more women are exposed to non-communicable diseases and other health vulnerabilities.
With this, alumni members of this all women's college will be able to access health insurance from best known providers of Health Insurance
in India, and include cover for their families - typically not covered by standard insurance. I hope members will come forward in large numbers to take advantage of this benefit." " It's a privilege to Partner with ELSA to enable comprehensive health benefits to thousands of LSR alumna and their family members. We admire ELSA's mission to transform alumni lives through sustainable action and are committed to support this in the crucial aspect of health and well-being ," said Shashank Avadhani, co-founder and CEO of Alyve Health The health insurance initiative for its alumni is a part of the efforts of ELSA to focus on women's healthcare in a holistic way, by procuring special preventive and treatment-related healthcare packages for its members and their families.
About ELSA
The Lady Shri Ram College Alumni Association aims to provide sustainable support to all its members, in all fields including mentoring, health, entrepreneurship, and networking for work as well as wider social development.