President of India confers the National Florence Nightingale award to 51 nurses and midwives
President Ram NathKovind conferred the prestigious National Florence Nightingale Awards to 51 awardeeson Wednesday. The recipients are awarded a medal, a certificate, a citation and also a cash award of Rs. 50,000/-.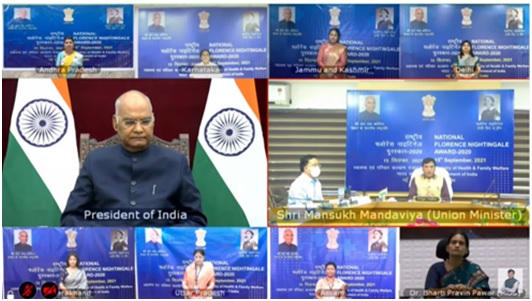 The awards were instituted to nurses and midwives across the country as a mark of recognition for their meritorious services. For the first time, the number of recipients increased from the usual 35 to 51, as a step to acknowledge the invaluable contribution of nurses and midwives as front-line COVID warriors. The National Florence Nightingale Award,started in 1973, is a mark of recognition for exemplary service in areas of public health and nursing education. The Indian Nursing Council under the Ministry of Health & family Welfare, Government of India grants the award and is the highest national recognition in the nursing field in India.
Dr. T Dileep Kumar, President, Indian Nursing Councilsaid, "Their exemplary service during the pandemic saw them go beyond their capacities to provide quality healthcare to patients round the clock while being under the constant threat of infection. They and thousands of nurses across the country are the faceless warriors of the pandemic who fought against an invisible virus through extended shifts, in exhausting PPE suits and with little regard for their own life. This kind of self-less service done with a pioneering spirit forms the core of nursing, that makes it an invaluable part of the healthcare system."
The National Florence Nightingale Award identifies and recognizes the contributions of nurses and midwives, in India.Recently, leading nursing and midwifery professional bodies joined hands to launch an initiative called the #NurseMidwife4Change which is aimed at supporting nurses and midwives to lead, to learn and to strengthen the profession.The State of the World's Nursing Report 2020 and State of the World's Midwifery Report 2021 highlight that investment in nursingand midwifery will not only contribute to achieve health-related SDG targets, but also to education, gender and economic growth globally.Leadership, education and job creation are three top priorities for India to focus on as per these reports.
This pan India programme is a call to all quarters of society, including policy makers, government, civil society, nursing and midwifery training institutions, the private and corporate sector, non-government organizations, and the people of this country to support its nurses and midwives through this campaign—not only to ensure that nurses and midwives get recognized for their immense contribution and role in the health care system, but also to prioritize investments to further strengthen this cadre so that they are able to perform their roles optimally and help the country achieve its health and welfare goals and targets.