INCREASE IN MALNUTRITION DURING CORONA PERIOD
To ensure continuous nutritional support to the beneficiaries, the Anganwadi Workers and Helpers distributed Supplementary Nutrition at the doorsteps of beneficiaries once in 15 days during Covid-19 as all Anganwadi Centres across the country were closed to limit the impact of the pandemic. In addition, Anganwadi Workers and Helpers also assisted the local administration in community surveillance, creating awareness as well as other work assigned to them from time to time.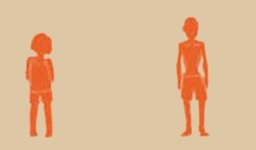 Government has accorded high priority to the issue of malnutrition and is implementing several schemes like Anganwadi Services, Scheme for Adolescent Girls and Pradhan Mantri Matru Vandana Yojana (PMMVY) under the Umbrella Integrated Child Development Services (ICDS) Scheme as direct targeted interventions to address the problem of malnutrition in the country.
Funds spent under POSHAN Abhiyaan are 4,66,824.8 and ICDS Scheme 26,10,031 from FY 2018-19 to FY 2020-21.
The schools remain closed for the major part of 2020-21 in most of the States as a precautionary measure to contain the spreading of Corona virus among the children. Keeping in view the legal entitlements of children under National Food Security Act (NFSA), 2013 and directions of Hon'ble Supreme Court of India, the Department of School Education & Literacy, issued the following advisories to States and UTs to provide Food Security Allowance, comprising of food grains, dry ration of pulses, oil etc. (equivalent to cooking cost) to enable children to meet their nutritional requirement in order to safe guard their immunity: -
· Advisory on provision of Food Security Allowance (FSA) comprising of food grains and cooking cost during closure of schools was issued on 20th March, 2021.
· Advisory along with guidelines for providing FSA even during summer vacations as a one-time special measure considering the extraordinary circumstances was issued on 29th April, 2020.
· Advisory on continued provision of FSA comprising of food grains and pulses, oil etc. (equivalent to cooking cost) till the time schools are open was issued on 31st July, 2020.
Government of India fully supported the States and UTs in providing the Food Security Allowance and released Rs. 12882.11 crore to States and UTs as central assistance as per the extant sharing pattern. Further, 34.45 lakh MT food grains were allocated to States and UTs. In addition to this, States and UTs have also provided their minimum mandatory share of about Rs. 5826.96 crore. About, 11.80 crore children have benefited under the scheme studying in 11.20 lakh school during 2020-21.
This information was given by the Minister of Women and Child Development, Smt. Smriti Zubin Irani, in a written reply in Lok Sabha today.