Ambuja Cement Foundation Supports COVID-19 Vaccination Drive; 11.5 Lakh People Receive Vaccination by the Third Phase
After successfully supporting the two phases of national immunisation drive for COVID 19, Ambuja Cement Foundation (ACF) has facilitated in vaccinating over 11.5 lakh beneficiaries by the Phase-3, including physically challenged, ST & SCs and at-risk community members. The Government of India rolled out the phase-wise vaccination programme in January 2021 to reach out to the entire population and ACF has been playing a major role in mobilizing beneficiaries in their own core locations. ACF also launched a COVID-19 volunteer program called AmbujaCoviSAINIK to offer trained community volunteers to the local health departments at ACF locations to support the ongoing vaccination drive in rural areas.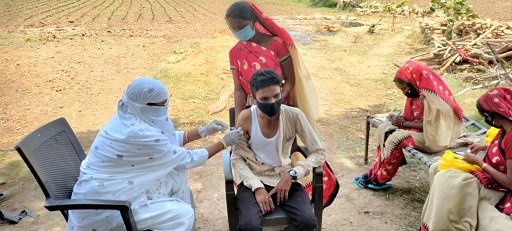 Talking about the third phase of national immunisation drive, Pearl Tiwari Director and CEO, Ambuja Cement Foundation said, " ACF is committed to its people and we are trying to get most of our beneficiaries vaccinated in our locations. Like phase one and two, we extended our support to reach the interiors of our areas and with our dedicated health team have successfully facilitated in mobilizing 11.5 lakh beneficiaries. By launching our AmbujaCoviSAINIK program we hope to create many volunteers so that we can reach maximum people and curb the spread of coronavirus."
To ensure a smooth flow of the drive ACF collaborated with health departments in various districts. In, Lakhmapur village of Chandrapur, Maharashtra, ACF got a medical officer assigned for frequent testing in the village to control the growing number of COVID-19 patients. On request of the block medical officer of Nalagarh, ACF provided 24 medical boxes to the local community. ACF also focused on mobilizing the physically challenged and people belonging to the lower class of society to get vaccinated. ACF reached out to MNREGA Workers by organizing vaccination drives at the sites.
Under the vaccination programme, ACF organized 88 camps and successfully vaccinated 98 percent of its own staff. The non-government organisation also supported health workers in creating awareness by making important announcements at the local markets and used speakers of temples and masjids to announce health benefits of vaccination, upcoming vaccination drives, its schedule and process. ACF volunteers also organised awareness and training sessions with SPOCs, BCI farmers, SHG members and other stakeholders to help them in imparting awareness and enhancing knowledge about immunisation among the public. ACF's health workers conducted door to door campaigns to convince people and assisted in taking them to the nearest camp or health centres to get vaccinated. ACF ambulances, company buses and E-rickshaws were also deployed to mobilize the beneficiaries to vaccination camps in the villages.