Atomy India commits to #HealthierHappierIndia on 75th Independence Day
Atomy India creating awareness on Oral Health Hygiene across India
On the occasion of 75th Independence Day "Azadi ka Amrit Mahotsav", Atomy India pitches in for a healthier India through Oral Health Hygiene initiative across India. Under the initiative Atomy India to distribute Atomy Oral Care kit to the underprivileged children across India covering 75 different cities.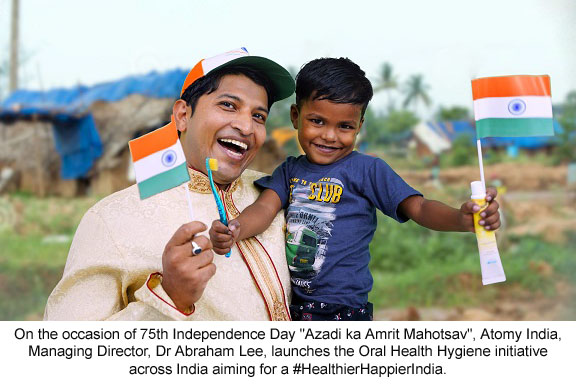 From Guntur to Kanpur, Mohali to Imphal, Atomy India is organizing one event every day in their respective Education Centre. This will be followed by celebratory programmes for 75 days in different 75 cities with the help of its 75 Education Centers.
"Since oral health is an integral part of the overall health of citizens, celebrating the Azadi ka Amrit Mahotsav across the country, Atomy India address the health issues of the underprivileged children who have no access or resources to look after their oral health, and thus impacting their overall health", said Abraham Lee, Managing Director, Atomy India.
"We will grandly celebrate our 75th Independence Day. As "75 years ago we were free from slavery and pain, on 75th Independence Day we will be free from Oral microbes and cavity pain" says Rahul Kokadwar, COO, Atomy India.
During these 75 days campaign, Atomy India will reach over 7500 children with the oral hygiene initiative. Oral health is an important factor of overall health. Adverse oral health can have significant impact on the whole systemic health, and quality of life. Starting Oral Hygiene from the early childhood can prevent Oral cancers, dental caries and periodontal diseases that contribute to the major burden of oral diseases in India and economic productivity of the nation.
Efforts such as by Atomy India are required to meet the ailing needs of the country as everything cannot be expected for the government to do.
Atomy Oral Health Kit contains Atomy Toothpaste which contains Atomy Propolis toothpaste enriched with green tea extract and propolis extract. These extracts have antibiotic, anti-inflammation and antioxidant effect with the power to eliminate oral infections. The triple complex action of the toothpaste prevents the formation of dental cavity while removing bad breath and which contains Atomy toothbrush have super slim bristles that reaches the curves between teeth for proper removal of any food residue. The bristles of the brush contain antibacterial membrane that keeps the brush clean and hygienic even when not in use. Its smooth flexible handle helps in firm grip and glide smoothly around the teeth, which provides deep refreshing feeling for teeth and gums after brushing.