India Reports 26,964 New COVID-19 Cases; Germany removes High-Risk Tag
India reported 26,964 new cases were reported in the last 24 hours.Sustained and collaborative efforts by the Centre and the States/UTs continue the trend of less than 50,000 Daily New Cases that is being reported for 87 consecutive days now. Now that the COVID-19 situation seems under control, Germany has removed India and 13 other countries from its list of high-risk regions. The other countries are Bangladesh, Brazil, Zambia, Zimbabwe, Botswana, Cyprus, Ireland, Portugal – the Algarve region, Nepal, South Africa, Malawi, Lesotho and Eswatini.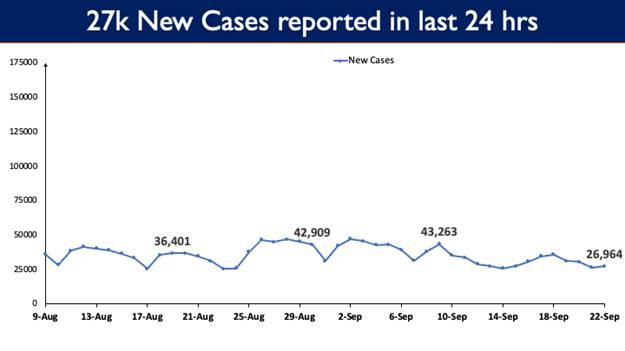 With the administration of 75,57,529vaccine doses in the last 24 hours, India's COVID-19 vaccination coverage exceeded 82.65Cr (82,65,15,754) as per provisional reports of Union Health Ministry.
The recovery of 34,167patients in the last 24 hours has increased the cumulative tally of recovered patients (since the beginning of the pandemic) to 3,27,83,741. Consequently, India's recovery rate stands at 97.77%. Recovery Rate is currently at its highest peak since March 2020.The Active Caseload is presently 3,01,989. Active cases presently constitute 0.90% of the country's total Positive Cases. This is the lowest figure in active cases in India since March 2020.
Meanwhile, Germany has removed India from its list of high-risk region. Reportedly, the countries have been selected on the basis of the COVID-19 spread in the respective territories. The report was prepared by the Robert Koch Institute (RKI), a German agency for disease prevention and control. The RKI noted, "Travellers who have previously stayed in a high-risk area must have a test, vaccination or recovery certificate with them and, in the event that a carrier is used, present the proof for the purpose of the transport."
The decision means that Indian travelers will no longer have to quarantine upon arrival; earlier, the same was mandatory for 10 days. All travelers need is their proof of recovery, a vaccination certificate or a PCR negative test certificate. Moreover, Germany has approved entry for travelers vaccinated with Indian vaccine-Covishield.
Union Health Ministry said that the testing capacity across the country continues to be expanded. The last 24 hours saw a total of 15,92,395tests being conducted. India has so far conducted over 55.67 crore cumulative tests.
While testing capacity has been enhanced across the country, Weekly Positivity Rate at 2.08% remains less than 3% for the last 89 days now. The Daily Positivity rate reported to be1.69%. The daily Positivity rate has remained below3% for last 23 days and below 5% for 106 consecutive days now.