India witnesses sharpest weekly rise, cases surged by 67%
Through effective strategy of containment including prompt tracing & tracking, widespread testing combined with standardized clinical management protocols; India has been successful in curbing the spread of the virus to a great extent. However, the country recorded a sharp rise in Covid-19 cases this week, with infections rising by 67%. The death toll from the virus too surged by 41%, although the fatality rate remained lower than earlier periods of comparable number of daily cases.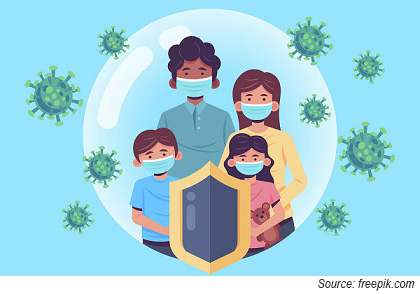 India recorded over 2.6 lakh fresh cases between March 15- March 21, as compared to 1.55 lakh last week, making it the worst pandemic surge till date. On Sunday, India added 47,047 cases, the highest daily count in 130 days since November 11. Maharashtra recorded its highest-ever tally of 30,535 fresh infections and Tamil Nadu records highest single-day tally since Dec 14.
The daily death toll crossed 200 for the first time since January 13, with 213 fatalities reported in the last 24 hours, the highest in 72 days since January 8. Maharashtra alone reported 99 deaths and Punjab 44, followed by Kerala (13), Chhattisgarh (10) and Tamil Nadu (nine).
India's cases during the week were nearly 75% of the count in February, underlining the sharp surge of the pandemic in recent days. Mumbai on Sunday reported its highest ever single-day count of cases at 3,779.
The spike continued in several other states on Sunday. Punjab recorded 2,669 fresh cases, its highest single-day tally since September 19 and close to the state's highest-ever count of 2,896 recorded on September 17.
Gujarat logged 1,580 fresh cases, its highest since November 28 while Madhya's Pradesh tally of 1,322 was the most in the state since December 8. The count in Tamil Nadu rose to 1,289, the highest since December 14 and Delhi added the highest number (823) since Christmas eve. Other states with high case counts were Kerala (1,875), Karnataka (1,715), Chhattisgarh (1,000), Uttar Pradesh (496), Rajasthan (476) and others.
With more than 9,000 infections reported over the past week, Karnataka's weekly tally of fresh Covid-19 cases nearly doubled from the previous week. Gujarat recorded a spike of 82% in seven days, higher than the Covid-19 surge in the post-Diwali period.