India witnesses fastest 1L rise ever, active Covid cases cross 4 lakh mark
India is in the midst of its sharpest-ever growth in coronavirus cases. Active Covid-19 cases in India crossed 4 lakh on Thursday, making it the fastest 1 lakh increase in the active case count since the beginning of the pandemic in the country.
Meanwhile, India recorded 59,117 fresh cases on Thursday, the highest single-day count in the country in 159 days, with Maharashtra hitting another all-time high of 35,952 new infections in a single day. The day's death toll in India was 255, above 250 for the second time in the last three days.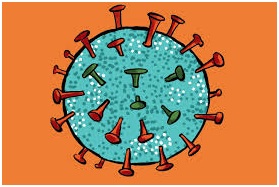 Active cases in the country have increased by over 52,000 in the past two days, including a single-day highest-ever rise of over 26,400 on Wednesday. The fastest increase of 1 lakh cases before this was the rise from 9 lakh active cases to 10 lakh in six days during the peak of the pandemic in mid-September last year.
In the last 15 days, the seven-day rolling average of daily cases has risen 2.6-fold, from 18,379 on March 10 to 47,439 on March 25. The corresponding increase during the first wave of the pandemic took nearly double the time — 28 days for the average to rise from 18,280 on June 29 last year to 46,760 on July 27. The good news is that during the corresponding period last year, India was recording far more deaths than at present.
Daily deaths had remained higher than 400 during the 28-day period while touching a high of 608. By contrast, the death toll hit a high of 276 on Tuesday. However, fatalities have been on the rise since the surge in cases began. India's case count of 59,078 was the highest daily number in more than five months since October 17 and a sharp rise from Wednesday's tally of 53,395.
The surge was mainly on account of Maharashtra, where daily cases grew from 31,855 on the previous day to 35,952. Mumbai too continued to breach previous records of highest daily detections, reporting 5,505 new cases on Thursday, the highest so far. The state also recorded 111 deaths. Cases were rising sharply in other states as well.
Apart from Maharashtra, at least 17 states posted their highest daily case on Thursday since January or earlier. That included Gujarat, which logged 1,961 new infections, its highest count ever. This was the fourth time in as many days that Gujarat had reported a new high in cases. Punjab recorded 2,700 cases, the highest since September 18.
As many as 14 states/UTs reported their highest single-day surge this year. Karnataka added 2,523 fresh cases, the highest since November 11, while Chhattisgarh's tally soared to 2,419, the most since October 23. Other states that witnessed a big spike on Thursday included Madhya Pradesh (1,885 cases, highest since October 14), Tamil Nadu (1,779, highest since November 15), Delhi (1,515, highest since December 16), Haryana (1,053, highest since December 11).