Home Healthcare: COVID-19 Pandemic Driving the Growth
Home healthcare as it sounds is to treat ailments in the comfort of your home in a professional manner. Healthcare at home is largely driven by the word 'convenience' as today's world is equipped with having more complex services such as education delivered at their doorstep.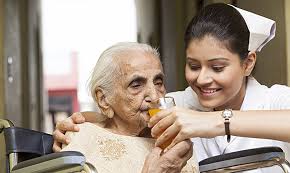 The in-home healthcare business model brings an ease in providing essential patient care and health services to peopleat the convenience of their home. The service largely benefits aging adults in need of regular medical care, patients recovering from hospitalization & pediatric patients. In addition to the benefit extended in terms of convenience and cost savings, the service helps in de-congesting hospitals for more critical care needs.
The Emerging Need
India's geriatric population is on the rise and this along with the rising working population, increase in the occurrence of chronic diseases, the significant increase in healthcare awareness & the growing need for convenience has contributed in large to the emergence of in-home healthcare providers in India.
According to new RedSeer Consulting analysis, India's home health care industry will break through $10 billion barrier in the next half a decade, as people demand care at home for more reasons than one. Moreover, home healthcare is coming to be a norm amongst various health stakeholders in India, from patients to doctors and even insurers which has taken the segment to more than $5 billion in market value.
As per theRedSeer analysts, these figures will continue to grow in the lead up to [2025], most likely at an accelerated rate.
The Pandemic Effect
The ongoing pandemic has had a positive effect on the growth of this sector - with social distancing as the new norm and hospital visits not only highly risky but also expensive. Furthermore, telemedicine solutions have become a convenient alternative and accelerated the demand for home healthcare solutions. The accompanying cost-benefits along with the country's technological advancements are driving the growth of this market to new highs.
According to Netscribes research, the home healthcare sector in India expected to expand at a compound annual growth rate (CAGR) of 18.91% during the 2020-2025 period and emerge as the fastest growing segment in the market.
Road Ahead!
As compared to the West, our country is still far in having a well-established and well regulated network of homecare and hospice services. While our nation has begun the journey towards delivering quality healthcare at home, it is important to strengthen India's stance in the sector as our aim must be to rank as high as possible. Additionally, with a population of one billion plus people, it becomes a crucial responsibility to catering to their survival and quality of life.Therefore, it goes beyond doubt that homecare is more affordable, convenient and comforting and hence, formal and stringent regulatory frameworks are vital in addressing the grave health concerns in India.