Mansukh Mandaviya took charge as the new Health Minister as the Government prepares to fight a potential 3rd wave
Gujarat leader Mansukh Mandaviya took charge as the new health minister on Thursday at a time when the government is gearing up to prevent and if necessary fight a potential third wave of Covid-19 and ramp up vaccination to ensure more people are protected against severe disease and death from the infection.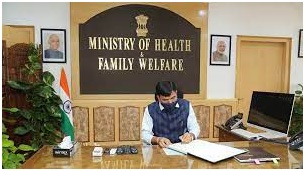 While the government is aiming to inoculate all adults above 18 years of age by December, this would require not only expansion of supplies of vaccines, but also increasing number of vaccination centres and vaccinators, especially in remote villages and tribal areas to ensure overall vaccine equity. With the last leg of the vaccination coverage expected to throw a significant challenge, Mandaviya will also have to find strategies for effective communication and awareness campaigns to overcome vaccine hesitancy and achieve maximum coverage.
While Mandaviya replaced Harsh Vardhan as the health minister, Ashwini Kumar Chaubey has been replaced by Dr Bharati Pravin Pawar as the junior minister. Pawar quit Nationalist Congress Party and joined BJP in 2019. Dr Pawar, 42, is a first-time Lok Sabha member from Dindori in Maharashtra. She served as a member of Nashik zila parishad and worked for eradicating malnutrition and providing clean drinking water to people. Before joining politics, she was a medical practitioner.
Another major task on Mandaviya's list would be to control a wider spread of Covid-19 cases even as some districts are still reporting high positivity, mainly in states like Arunachal Pradesh, Rajasthan, Kerala, Manipur and Meghalaya.
Apart from health, Mandaviya will now also lead the ministry of chemicals and fertilisers, which also has under its purview the Department of Pharmaceuticals— a key department looking after issues like manufacturing of medicines, vaccines and other pharma products like medical equipments etc.