Sarthak announces a slew of initiatives for Well-being of Persons with Disabilities
The COVID-19 outbreak is a huge challenge for society but a social organization- Sarthak Educational Trust- that has empowered over One Million Persons with Disabilities (PwDs) since 2008, immediately responded to the new normal situation and as soon the lockdown it started virtual training programs for PwDs. Since then over 5,000 people have been digitally empowered through online sessions and out of them 3,000 PwDs were hired by corporate houses with the Work From Home option. In the last 13 years, Sarthak has empowered over 22,000 PwDs with jobs in different sectors and with the outbreak of COVID-19, the organization ensured that it comes as a boon for PwDs. These achievements and milestones were highlighted during Sarthak's '13th Annual Day' celebrations.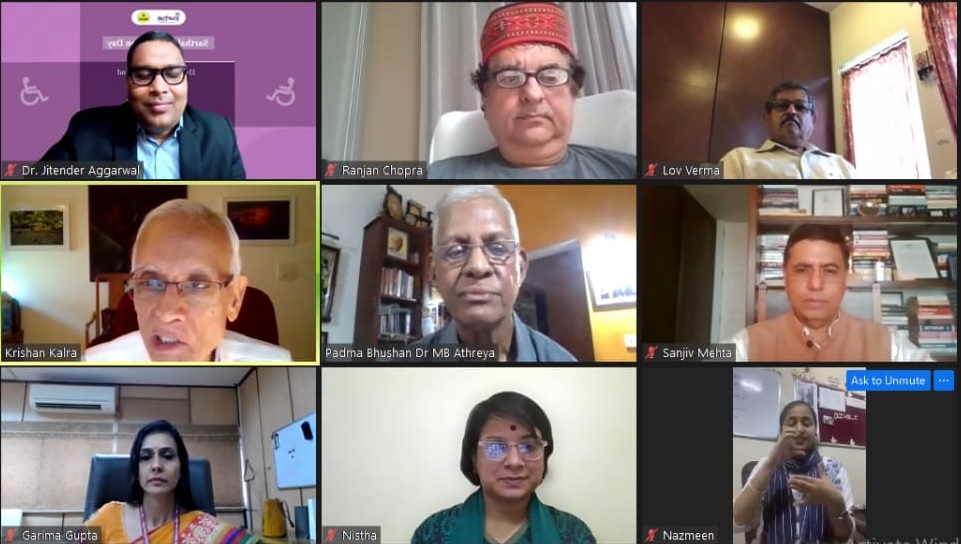 Celebrating its 13th Foundation Day today, Sarthak Educational Trust virtually organized Panel Discussions on issues related to Disability, announces several initiatives including Digital Empowerment, RozgarSaarthi, and the opening of three new Vocational Skill Building and Sustainable Employment Centers for PwDs. With its other vertical for children with special needs, amid COVID-19 Sarthak has geared up to train parents in the endeavor of helping their children. So far, Sarthak has empowered over 2500 children with special needs and their parents. The new initiative aims to empower the children in the best way possible without hampering their growth.
Addressing the inaugural panel discussion, DrJitender Aggarwal, Founder & CEO, Sarthak Educational Trust said, "In the last 13 years, we have successfully touched the lives of more than 10,000,00 ( one million) PwDs. We were able to get over 22,000 PwDs placed in several sectors. Even during the COVID-19 pandemic, Sarthak went a step ahead to scale its activities. Within a week after the lockdown was announced, Sarthak started virtual training programmes for its members. Since then, about 5,000 people with disabilities have been trained successfully through the online sessions, out of which more than 3,000 people with disability have landed a job in leading corporate houses with WFH option."
"Sarthak's resolve and aim, to cater to people with disability and empower them to be free and independent individuals, is unchanged and indefatigable even in the times of this pestilence. We, at Sarthak, are all geared to switch to online mediums of training and reaching out to every corner of India. The mass reach out through virtual mediums has helped Sarthak build massive bridges for the PwDs," he added.
The virtual event also saw the unveiling of the 'RozgarSaarthi', the one and only platform where Sarthak connects persons with disabilities (job seekers) to job vacancies. Once the candidate has registered the candidate will be notified via message for job suitable jobs. The initiative aims to remove the hassle of persons with disabilities. Sarthak also announced the establishment of its new vocational Skill Building and Sustainable Employment Centres in Ahmedabad, Varanasi, and Thiruvananthapuram for maximum outreach for PwDs.
Urging to make empowerment and inclusion of PwDs a 'Jan Aandolan' (People's Movement) LovVerma, Former Secretary, Department of Persons with Disabilities, GoI stressed on earmarking one per cent of total Corporate Social Responsibility (CSR) spending of PSUs for the welfare of PwDs and a Committee should be formed to identify NGOs working in this space for funding by PSUs.
"Public Sector Undertakings (PSUs) annually spend nearly INR One Lakh Crore in CSR activities. If one per cent of it – INR 1,000 crore is earmarked for PwDs, it will go long way to empower them. Further, targets of employment and welfare schemes need to monitor strictly by senior level officers. Government officials also need to be sensitive towards requirements of PwDs and in this context, there should regular entry of their actions in the Annual Performance Report," he added.
During the inaugural panel discussion session PadmBhushanDr MB Athreya, Mentor, Sarthak, talked about the challenges whereas and Krishna Kalra, Board Member, Sarthak stressed on the need to count exact numbers of PwDs in the coming census as the current number is highly underreported. Ranjan Chopra, MD, Team Computers underlined the important role of corporates in empowering PwDs.
Highlighting the initiatives taken by the Department of Social Welfare, Government of NCT of Delhi, Secretary MsGarima Gupta said, "We are passing through an unprecedented time due to COVID-19 pandemic. Governments and NGOs need to work together for the empowerment and inclusion of vulnerable sections including PwDs. The Social Welfare Department has initiated several schemes concerning access to education, employment, accessible environment, barrier-free life, rehabilitation, and financial assistance. We have issued guidelines to reserve five per cent in housing, poverty alleviation and other welfare schemes of the Delhi Government."
With the theme-'13 years of Inclusion and Empowerment of Persons with Disability,' during the panel discussion, panellists deliberated plans for bridging the Physical, Attitudinal and Financial Barriers in the line of inclusion of PwDs through digital mediums, job aggression and further accelerate the pace of their inclusion led empowerment to form an umbrella for persons with disability in the post-Covid-19 world.
Sanjiv Mehta, Chairman and Managing Director of Hindustan Unilever Limited was the chief guest for the inaugural session. Appreciating the efforts and initiatives of Sarthak, he said, "The pandemic, like any other crisis, has disproportionately affected various marginalized social groups in the nation. This includes around 2.68 crore persons with disabilities in India. This event is aimed at forming comprehensive policies to protect and guide persons with disability in the post-Covid- 19 world."
During other panel discussions on CSR Strategy for building disability Inclusive and Sustainable World post-COVID 19, Building Back Better: Disability Diversity and Inclusion, Government & Corporate CSR Strategy for building disability Inclusive and Sustainable World post-COVID 19, Power of Storytelling: Disability & Media, and Scaling Policies, Programs and Processes across Global Organization experts, policymakers, and influencers shared their views for capacity building and scaling programs for PwDs.