Overcoming Glitches and Adverse: Vaccination for COVID continues smoothly across the country
The vaccination drive that started on January 16 was very successful as 4,319 out of 8,117 beneficiaries got inoculated at 81 centres. On the second day of the drive, the number of vaccinators and centres will remain the same, but, apart from the vaccine doses, lessons learnt on the first day will be implemented by the authorities to avoid glitches and ensure smooth vaccination for all.
"Though the exercise was streamlined on Saturday and there were no major problems at any centre, glitches were faced in the Co-WIN app. Thankfully, backup hard copies of all records were available and technical glitches didn't derail the exercise. The problems have been rectified and, hopefully, there won't be any glitches Monday onwards," said a government official.
Also the observation booths at the centres might see further enhancement. "There were 52 instances of adverse events following immunisation. Except one, all were minor effects, but more infrastructure for medical emergencies may be added to tackle such events, even though the centres are currently in hospitals," said the official.
Talking about a patient discharged from AIIMS on Sunday, health minister, Satyendar Jain said, "Only one 22-year-old, who is in security work, was admitted in the ICU at AIIMS, while the other 51 were discharged after monitoring for some time."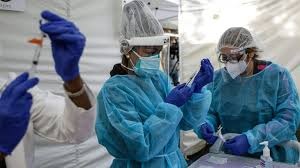 "There were more vaccination sites earlier, but the numbers everywhere were reduced by the central government. In Delhi, it was reduced to 81. Gradually, all agencies that provide healthcare will be involved in the vaccination drive as the number of centres is being scaled up. Every healthcare worker in the capital will get vaccinated," added Satyendar Jain.
Dr Suresh Kumar, medical director of Lok Nayak Hospital said the arrangements on Monday would be on the same lines as the first day. CM Arvind Kejriwal visited the hospital on Saturday during the launch of the vaccination drive and total 32 healthcare professionals were vaccinated there.
Dr BL Sherwal, Medical Director of Rajiv Gandhi Super Specialty Hospital said that arrangements would be similar on Monday, except that unlike Saturday, no mementos would be given to those getting inoculated.
Out of the 81 centres, West and North West districts have the highest number of vaccination points (11) where arrangements have been made for inoculation of 1,100 beneficiaries each. They are followed by South and Central districts with nine centres each with the target of inoculating 935 and 891 beneficiaries, respectively. With just two vaccination centres, North East district plans to inoculate 200 beneficiaries, the lowest in the city.