More than 28 lakh Healthcare Workers Vaccinated across the country
The total number of healthcare workers vaccinated against COVID19 till date (the thirteenth day of the vaccination drive) has crossed 28 lakh today. According to Union Health Ministry, a total of 28,47,608 beneficiaries were vaccinated through 52,667 sessions, as per the provisional report (till 7 pm today).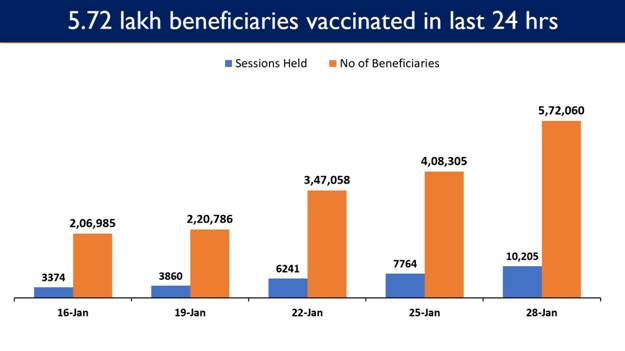 Today 4,91,615 beneficiaries were vaccinated through 9,994 sessions. 13 States and UTs have each vaccinated more than 1 lakh beneficiaries (accounting for 83.31% of the total). 293 AEFIs have been reported on day-13 of the vaccination drive.
As per the provisional report available with the union health ministry, a cumulative 28 lakh vaccinations have been completed so far through 52,667 sessions.
So far Karnataka ( 2,84,979, Uttar Pradesh (2,77,608), Rajasthan (2,44,204), Maharashtra (
2,18,030) , Odisha (1,94,058), West Bengal (1,84,596), Andhra Pradesh (1,70,910), Gujarat (1,54,234), Telangana (1,46,665), and Bihar (1,06,824) have taken a lead in vaccination campaign.
Meanwhile, till 12th day of vaccination campaign, the death of nine health workers was reported. were reported. The government has not disclosed all details of the investigations into this serious Adverse Events Following Immunisation (AEFI). The government reportedly said that the death was not due to the vaccine but has not revealed who made that determination and the details of the investigation.
The deaths were reported from Uttar Pradesh, Karnataka, Andhra Pradesh, Rajasthan, Telengana, Gurugram and Odisha. The six men and three women who died were between 27 and 56 years old. The deaths took place between 24 hours and five days of taking the vaccines and all have been ascribed to cardiovascular problems or "brain stroke". The vaccine taken in each case was Covishield.
India reported 18,855 new Covid-19 cases new Covid-19 cases. Meanwhile, total number of persons infected with the UK variant of Coronavirus has reached 166.The recovery rate stands at 96.96 per cent, while the fatality rate is 1.62 per cent. A total of 19,50,81,079 samples have been tested for Covid-19 up to January 28. Of these, 7,42,306 samples were tested on Thursday, said the Indian Council of Medical Research (ICMR). About 78 per cent of the daily new cases are reported from seven states -- Kerala, Maharashtra, Chhattisgarh, Bihar, Karnataka, Tamil Nadu and Gujarat.