Massive Fire At Serum Institute, No loss of lives
A massive fire broke out today at vaccine-maker Serum Institute of India's Pune facility, at a building that is under construction. It is unlikely to hit the production of Covishield, the coronavirus vaccine developed by the SII in partnership with the Oxford University and British-Swedish pharma firm AstraZeneca. One team of the National Disaster Response Force has also been rushed to control the fire that broke out at around 2.45 pm. The cause of the fire at the Serum Institute plant is yet to be known.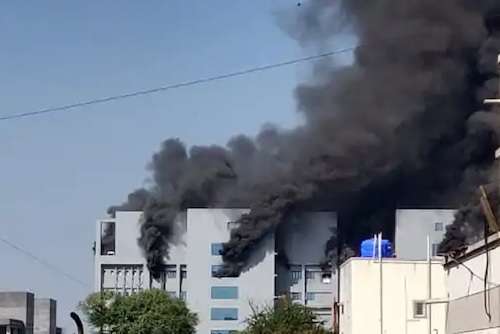 CEO of Serum Institute of India, Adar Poonawalla, has said that there has been no loss of lives or major injuries due to the fire at SII's campus in Pune. Thank you everyone for your concern and prayers. So far the most important thing is that there have been no lives lost or major injuries due to the fire, despite a few floors being destroyed," he wrote on twitter.
The Serum Institute of India, the world's largest vaccine maker, is spread over 100 acres in Pune. Manjari, the complex where the fire broke out, is a few minutes' drive from the facility where the Covid vaccines are produced, sources said. It is believed to be part of a Special Economic Zone (SEZ). About eight or nine buildings are being constructed at the Manjari complex to deal with future pandemics and these are aimed at enhancing the SII's manufacturing capability.
Visuals showed thick smoke rising from the building. At least 10 fire tenders were on the spot "There were four people inside the building. We have rescued three so far though smoke is hampering the work of bringing the fire under control," a fire officer said.
The SII is manufacturing the Covid-19 vaccine, Covishield, developed by the Oxford University and AstraZeneca. Covishield is one of the two vaccines against the novel coronavirus that have been granted emergency use approval in the country. Meanwhile, Maharashtra Chief Minister Uddhav Thackeray's office tweeted he is "in touch with the Pune Municipal Commissioner and is taking complete on-ground updates".
Last year in November, Prime Minister Narendra Modi had visited the Serum Institute in Pune to review the development of the Covid-19 vaccine ahead of its rollout.
The country launched the world's largest Covid-19 vaccine rollout last week after two vaccines - Covishield and Hyderabad-based Bharat Biotech's Covaxin - were cleared by the Indian drug regulator, DCGI.