Union Budget 2021-22: Healthcare Sector gets a big boost, Allocation increases by 137%
Union Budget 2021-22 provides a big boost to healthcare sector in terms of policy support and fund allocations. The government has allocated Rs 2,23, 846 crores – a 137 percent increase for healthcare. Announcing the 'most important Budget in decades' Financial Minister Nirmala Sitharaman said that Union Budget 2021-21 has been based on six pillars. Health and well being is the first pillar.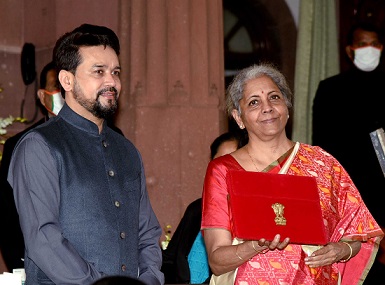 Presenting her third Budget in Parliament today, she announced a new Centrally Sponsored Scheme Pradhan Mantri Aatmanirbhar Swasth Bharat Yojana with a corpus of Rs 64,180 crores for the next six years.
Reacting to the provisions made for the healthcare sector, Dr. Girdhar Gyani, Director General, Association of Healthcare Providers- India (AHPI) said, "We have been saying that emphasis on Promotive, Preventive and Primary care only can help in making of a Healthy India. One rupee spent on these 3 Ps can save five on curative care. Sanitation, Drinking water, and nutrition have a similar impact. We are happy to note that Union Budget is focused on these issues."
"Simultaneously the Government should aggressively initiate reforms in medical education including for the nursing and allied health workforce. In terms of resource allocation and policy support amid a once-in-a-century pandemic Union Budget 2021-22 looks progressive," he added.
PM Aatmanirbhar Swasth Bharat Yojana is expected to improve healthcare infrastructure in the country. It aims to improve primary, secondary and tertiary healthcare. This is in addition to National Health Mission.
Dilip Jose, Managing Director & CEO Manipal Hospitals said, " The Finance Minister has accorded special attention to the Healthcare Sector, increasing the overall outlay to health and wellbeing to nearly Rs.2.25 lakh crore, an increase of over 135% over last year. The enhanced allocation, along with the plan to look at healthcare wholistically – including nutrition, sanitation, clean drinking water and pollution control, certainly augur well for the country. The allocation of Rs.35,000 Crores towards Covid vaccination also is a very welcome step."
"Further, the augmented government spend planned for capital expenditure by over 35% would aid job creation and growth in incomes, which would in turn enable people to spend on healthcare when required," he added.
FM informed that Budget 2021 proposals rest on six pillars, stated that Health and Well being as the first pillar and listed the next to be Physical and Financial capital and infrastructure, Inclusive Development for Aspirational India, Reinvigorating Human Capital, Innovation and R&D Minimum Govt., Maximum Governance.
Welcoming the Budgetary provisions, Prem Sharma - CEO and Founder of DaytoDay Health said, "For Health and Wellness of the people the government would be focusing on three critical areas- Preventive, Curative and Wellness. Allocation of adequate funds to modernize existing healthcare infrastructure would be the best way to strengthen the sector. Govt. is strengthening National Centre for Disease Control with Its 5 regional branches and 20 metropolitan health surveillance units in PM Atmanirbhar Swastha Bharat Yojna."
The Finance Minister said that the total COVID-19 package amounts to 13 percent of the Gross Domestic Product (GDP) and more COVID vaccines are also expected soon.
Expressing disappointment Rajneesh Bhandari, Founder- NeuroEquilibrium and Angel Investor, said, "It is quite disappointing that the allocation for healthcare sector, which is just 6% higher than last year's budget, is way below the target of 2.5% of GDP. The whole world understood that economic growth could come to a grinding halt without adequate health infrastructure, availability of expert doctors and investment in research. India's public spending on healthcare is less than 1.5 % of GDP compared to 5% by China and Russia, 8% by South Africa, and over 9% by Brazil."
"The continuation of a 5% healthcare cess on the import of selected medical equipment will help boost domestic production, but this is too little for the development of the local industry. India has the lowest per capita spend ($3) on medical devices among BRIC nations compared with Brazil($28) and Russia ($43). India's medical devices market is about $15 billion, which is expected to grow to $50 billion by 2025. Today India imports 80% of its requirement," he added.
The government has also paid attention on Innovation and Research & Development. In a boost to Startups a slew of measures has been announced.
Amit Mishra, Co-founder, Kidzpreneur, said, " The Finance Minister announced 6 pillars of the Union budget where Innovation and R&D will form an important pillar to ensure development of the nation. The budget talks about extending Tax holidays for Start-ups by one year, till 31st March 2022 this will help startups to compensate from th previous year's distress across sectors due to the pandemic."
"In addition to that there is another year exemption on capital gains for investing in startups which will hopefully see more investments in startups and innovation in the country. All the new programs proposed by the government like Jal yojana , Swach Bharat Mission will be able to achieve scale with progressive innovation which can be enabled with startups." he added.
The FM has also proposed to incentivize the incorporation of One PersonCompanies (OPCs) by allowing OPCs to grow without any restrictions on paid-up capital and turnover.