Is QR Code based Healthcare a Reality?
QR codes are simple, matrix-based images that, when scanned and read by a smartphone camera, immediately link to a website or online content. Several industries have benefitted with the use of this technology and it was only a matter of time before the healthcare industry too found benefit in the use of QR codes. Implementing QR Codes in healthcare is beneficial in more ways than one, especially when it comes to connecting and imparting the right amount of information with your patients.
It's time to explore how QR codes are helping healthcare providers to improve their service and enhance patient outcomes.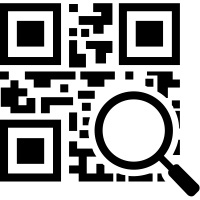 Healthcare Marketing
As an ideal tool for any marketing effort, QR codes can be used by healthcare providers like doctors, clinics and hospitals to grow brand awareness and market their services. For example, a QR code can be a part of hospital or clinic brochures and leaflets. When scanned by patients, the code leads to a landing page which displays videos about your institution or other patients sharing their stories. Alternatively, it may also link to a video providing a walkthrough of your medical facility and its equipment.
Effective patient identity management
QR codes have a role in effective patient identity management and aid healthcare providers to get access to the patient informationwhich can be linked with the QR codes on patient wristbands. The process is not only effective but fast enough to provide the caregivers with relevant patient information without going through piles of paper just to identify patients. It also comes to the rescue of healthcare staff in times of emergency to contact patients' family or friends.
QR Code in Hospitals&Medical Clinics
In hospitals and medical clinics, QR codes can be used in multiple ways to help treat patients better and reduce administrative burden. At one end, it can be linkedwith health management information system to streamline workflow and save time, provide patient education and offer information about your services and procedures.At the other end, QR codes on posters or leaflets help patients' access information on various diseases and treatments and are also ideal for engaging patients while they are waiting for their turn.
Ensuresdrug safety
QR codes go a long way to ensure drug safety and proper administration of medication to patients and are also becoming popular to prevent counterfeit medicines.
Information onmedical equipment
QR codes come in handy to display important information about equipment and operators can use a QR code scanner app to scan the code and get access to manuals, operating instructions and even videos about the equipment. Data on maintenance and other details related to equipment can also be stored and linked toQR codes.
The Way Forward
QR codes are slowly becoming an indispensable part of effective healthcare delivery and the healthcare service providers across globe has been adapting the two-dimensional images for improved patient outcomes and save time. This cost-effective tool is also getting popular in India and in times to come it is poised to play a catalysing role.