India reaches 4 million COVID19 vaccination mark in just 18 days
India achieved a significant milestone in its fight against the global pandemic as it became the fastest country in the world to reach the 4 million COVID19 vaccination mark in just 18 days.
As on 1st February, 2021, India was among the top five countries in terms of number of COVID19 vaccine doses administered to people. India continues to undertake its vaccination drive at a fast pace.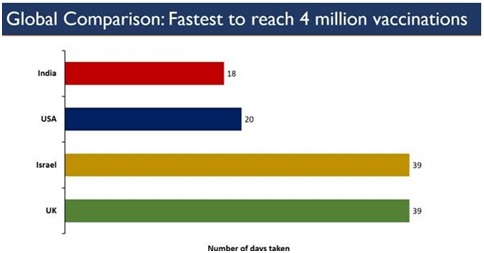 14 States/UTs have not reported any deaths in the last 24 hours. These states are A&N Islands, D&D & D&N, Arunachal Pradesh, Tripura, Mizoram, Nagaland, Lakshadweep, Ladakh (UT), Sikkim, Manipur, Puducherry, Goa, Odisha and Assam.
The active caseload of the country has shrunk considerably and presently stands at 1,60,057 . At present India's active caseload has fallen below 1.5% (1.49% presently) of the total cases.
11,039 new confirmed cases were recorded in the last 24 hours in the country, 14,225 new recoveries were registered in the same period. It has led to a net decline of 3,296 cases from the total active caseload.
Currently India's Recovery Rate has crossed 97.08% and is one of the highest in the world for countries with high caseload. As recoveries continue to outnumber new Covid 19 cases, total recovered cases have crossed 1,04,62,631.
The gap between active cases and recoveries keeps widening and presently stands at 1,03,02,574 with a considerable decline in mortality rate as more number of people are responding to medication and are recovering quickly.
31States and UTs have less than 5,000 active cases and 8 States and UTs have weekly positivity rate higher than the national average (1.91%). Kerala has the highest weekly positivity rate of 12%, followed by Chhattisgarh with 7%.
As on 3rd February, 2021 more than 41 lakh (41,38,918) beneficiaries received the vaccination under the countrywide COVID19 vaccination exercise. In the last 24 hours, 1,88,762 healthcare workers were vaccinated across 3,845 sessions and so far 76,576 sessions have been conducted.
85.62% of the new recovered cases are from 8 States/UTs. The state with highest number of recoveries is Kerala with 5,747single day recoveries followed by Maharashtra with 4,011new recoveries and Tamil Nadu with 521 recoveries.
However new confirmed cases have been reported in the last 24 hours in the country and 83.01% of these new cases are concentrated in six States/UT. Kerala is leading the number of new active cases with 5,716 cases followed by Maharashtra and Tamil Nadu with 1,927and 510 new cases each respectively.
India's case Fatality Rate has reduced significantly over months. 66.36% case fatalities have been reported in 5 States and UTs in the past 24 hours and 110 deaths have been registered in the past 24 hours. Maharashtra tops the chart with 30 new deaths followed by Kerala with 16 deaths.