India records 578 Omicron Cases, Delhi, at the top, imposes Night Curfew
India on Sunday recorded 578 Omicron cases and with 142 Delhi tops the list. Overall, Delhi recorded 290 new cases of COVID-19 and the state government announced the imposition of night curfew from 11 pm to 5 am in view of the surge in daily COVID-19 cases. The curb will come into effect from December 27, the Delhi government said. The state health department reported 290 new cases, the highest since June 10. One fatality was also recorded in the same period.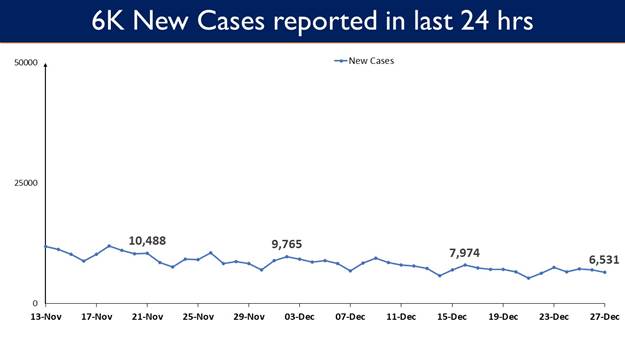 Meanwhile, Union Health Ministry said that 6,531 new cases were reported in the last 24 hours.India's Active Caseload is presently at 75,841. Active cases constitute 0.22% of the country's total Positive Cases, which is lowest since March 2020.The recovery of 7,141 patients in the last 24 hours has increased the cumulative tally of recovered patients (since the beginning of the pandemic) to 3,42,37,495.Consequently, India's recovery rate stands at 98.40%, highest since March 2020.
Meanwhile, India's COVID-19 vaccination coverage has exceeded 141.70 Crore as per provisional reports on Monday. Prime Minister Narendra Modi has announced the launch of the vaccination campaign for children in the age group of 15-18 years who form a major part of the unvaccinated, susceptible population in India.
Commenting on the announcements by the Prime Minister, FICCI PresidentSanjiv Mehta said, "We are grateful for opening the Booster or Precaution dose for the Healthcare and Frontline workers as well as the senior citizens with comorbidities, which will help us protect our high-risk population given the rising concerns from the forecasted 3rd COVID wave."
"With 61 percent of population fully vaccinated, this is rightful expansion of India's vaccination campaign is a significant step towards our continuous fight against the COVID-19 pandemic and will aid in tackling the new Omicron variant. The preparation announced by the Prime Minister for managing the pandemic in coming months is indeed very encouraging for the industry as well as the citizens of India," added Mehta.
The Prime Minister has announced that the nation has 18 lakh isolation beds, 5 lakh oxygen-supported beds, 1.4 lakh ICU beds, and 90,000 special beds for children. There are over 3,000 functional PSA Oxygen plants and 4 lakh Oxygen cylinders have been provided to all states. Apart from research on the vaccine, the government is also working on approval processes, supply chains, distribution, training, IT support system, and certification.