AYUSH drugs improve Clinical recovery & Quality of Life for Covid patients
AYUSH Medicines viz AYUSH -64 and Kabasur Kudineer were administered to COVID-19 asymptomatic and mild to moderate patients during a campaign launched by Ministry of Ayush. A total of 63,265 patients got benefit from these medicines. The outcomes of these interventions showed significant improvement in clinical recovery and duration of hospital stay without any progression of the disease to severe or critical stage. Also, there was improvement in Quality of life (QoL) parameters. These interventions found to be well tolerated and safe.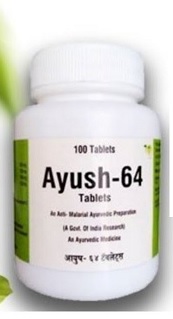 Ministry of Ayush, through its Autonomous Institute i.e. All India Institute of Ayurveda (AIIA), New Delhi has signed an agreement with London School of Hygiene & Tropical Medicine (LSH&TM), UK for conducting the study on "Ashwagandha for promoting recovery from Covid-19 in the UK" on 22 July 2021. The study is a Randomized, placebo controlled double blind trial. The study has been approved by the Medicines and Healthcare Products Regulatory Agency (MHRA) and certified by WHO-GMP. It is being conducted and monitored as per the internationally recognized GCP (Good Clinical Practices) guidelines. All India Institute of Ayurveda (AIIA), New Delhi has also signed an agreement with Frankfurter Innovations zentrum Biotechnologie GmbH (FIZ), Frankfurt, Germany on 15.06.2021 for conducting Collaborative Research study entitled "Understanding the molecular mechanism of Guduchyadi tablets in combating COVID-19 infection- In-vitro & in-vivo study".
Ministry of AYUSH and Ministry of Health and Family Welfare have jointly provided training to 33,000 AYUSH master trainers. A total of 66045 AYUSH Personnel had obtained training at igot.in platform on continual basis. Ministry of AYUSH has coordinated with Ministry of Health and Family Welfare for utilization of AYUSH manpower as COVID warrior for the management of Covid-19 with identified roles.
As per the proposals received from different State / UT Governments through State Annual Action Plans (SAAPs) under National Ayush Mission (NAM), 03 proposals of tele-medicines have been approved in the States of Bihar, Uttar Pradesh & Telangana during last three years. However, implementation comes under the purview of State/ UT Governments.
This information was given by Minister of Ayush Shri Sarbananda Sonowal in a written reply in Lok Sabha today.