US continues to help India recover from its second wave of COVID-19
The US remains committed to helping India recover from its devastating second wave of coronavirus and stands ready to support it until the virus is defeated, a top Biden administration official said on Monday.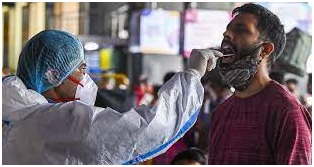 With 39,361 people testing positive for coronavirus infection in a day, India's total tally of COVID-19 cases rose to 3,14,11,262, while the daily positivity was recorded above three per cent after 35 days, according to the Union Health Ministry data updated on Monday. The COVID-19 death toll climbed to 4,20,967 with 416 fresh fatalities.
The active cases have increased to 4,11,189 and comprise 1.31 per cent of the total infections. An increase of 2,977 cases has been recorded in the active COVID-19 caseload in a span of 24 hours, it said.

"We remain committed to helping India recover from its devastating second wave and stand ready to support our partners until we have defeated the virus," United States Agency for International Development (USAID) Administrator Samantha Power said during the swearing-in ceremony for incoming USAID Mission Director for India Veena Reddy.

Reddy, who is originally from Andhra Pradesh, made history on Monday by becoming USAID's first-ever Indian-American India Mission Director.

"Veena and I also share a bit of history; we both arrived in the United States as immigrants from Ireland - and we may or may not still be trying to overcome an Irish brogue," Power said.

"Veena's journey from Andhra Pradesh to Ireland, then to the United States embodies the best of what we - a nation of immigrants - has to offer. A determined sense of possibility. A bold vision that paves the way for sustainable and inclusive development around the world," Power said.

India's Ambassador to the US Taranjit Singh Sandhu and America's Charge de 'Affairs at the US Embassy in New Delhi Atul Keshap also spoke during the swearing in ceremony.