Vaccine coverage must continue to improve, particularly to reach vulnerable sections and reduce inequities: Dr. Harsh Vardhan
Immunization has been a singularly successful global program in preventing vaccine preventable morbidity and mortality and the World Health Organisation (WHO) must continue providing evidence-based and scientific advocacy to support Member States in effectively implementing the Immunization Agenda, said Dr. Harsh Vardhan, Union Minister for Health and Family Welfare while digitally chairing the 148th session of WHO Executive Board on Tuesday.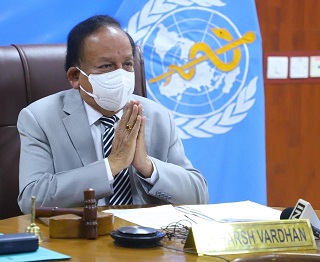 Dr Harsh Vardhan emphasised that vaccine coverage must continue to improve, particularly to reach vulnerable sections and reduce inequities. " The past year 2020 has been the Year of Science when the best of humanity has shone through the gloom that descended upon us due to the COVID19 pandemic and the situation demanded setting up of major global collaborations so that scientists could share their expertise," he added.
As Chairman of the Executive Board of the World Health organisation Dr Harsh Vardhan appreciated the role of scientists and health professionals. He said, "Our science and healthcare communities have exhibited that we can meet any pace, retain the quality of our diagnostics and care, build confidence and trust that speed doesn't mean lack of quality. I have personally always believed that the fruits of our collaboration on healthcare need equitable distribution. We must deliver those to everybody in the world, and we must not create a more unequal world."
"If 2020 was the year of discovery for COVID Vaccines, 2021 will be the year we face the challenge of getting it to people across the world who most need it. Here is the big role that we at WHO must play. Engagement with multiple stakeholders and youth influencers is all the more important now to spread the right information and dispel rumors about the vaccination program and the continuation of other core public health measures aimed at ending the pandemic, Dr Harsh Vardhan further said.
The Chair of the Executive Board also appreciated the decision on pushing mental health by the WHO. He said that the draft decision on "Promoting mental health preparedness and response for public health emergencies" will prove beneficial in addressing the mental health aspects of public health emergencies.
The Chair formally appreciated that some of the members highlighted the mismatch between the expectations from WHO and its capacity to deliver. The increasingly complex landscape due to the COVID-19 impact and the transformation initiatives call for a clear roadmap, updates on the results framework process and program budget were requested before the World Health Assembly.
The Board has also welcomed the Immunization Agenda 2030 and was unanimous in recognizing the central role played by immunization programs in safeguarding public health globally. Member States also called for early and equitable availability of COVID-19 vaccines, including through the COVAX facility.
The WHO ensured that that the low- and middle-income countries have access to all safe and effective COVID19 tests, treatments and vaccines.