Total COVID-19 cases in India cross 5 Million, Registers the Highest Single day Recoveries also
India continues to record both high number of COVID-19 cases and a spate of very high recoveries. Total number of cases has crossed 5 million, however, the country logged in the highest number of single day recoveries in the last 24 hours. 82,961 COVID patients were cured and discharged from home/facility isolation and hospitals, steeply pushing the Recovery Rate to 78.53%, according to Union Ministry Data. The 7-day moving average of the Recoveries shows a consistent increase in the recoveries. The total recovered cases stand at 39,42,360.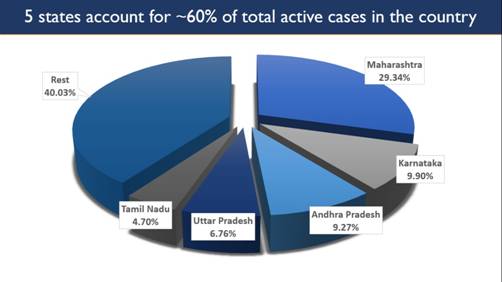 In the last 24 hours, Maharashtra (19423) contributed 23.41% of the new recoveries while the States of Andhra Pradesh (9628), Karnataka (7406), Uttar Pradesh (6680) and Tamil Nadu (5735) contributed 35.5% of the new recoveries. Nearly 59% of the new recoveries came from these five States.
There are 9,95,933 active cases in the country as on date. The gap between Recovered and Active cases has crossed 29 lakh today (29,46,427). Recovered Cases are nearly 4 times (3.96) the number of Active Cases. Maharashtra, Karnataka, Andhra Pradesh, Uttar Pradesh, Tamil Nadu compose close to 60% of the Active Cases.
The number of novel coronavirus cases in India crossed 50 lakh on Wednesday, after the country detected 90,123 new cases in the 24 hours ending 9 am. The tally of 50,20,360 cases includes 9,95,933 patients who are undergoing treatment and 39,42,361 who have recovered. With 1,290 additional deaths, the toll rose to 82,066.
Meanwhile, Union Health Minister has informed Parliament that the pandemic was "far from over". He also said the government had prevented 14-29 lakh cases and 37,000-78,000 deaths by imposing the nationwide lockdown on March 24, a claim the Opposition sought to know more on. The government also informed the Upper House that it was supporting the development of over 30 vaccine candidates, three of which were in advance stages of Phase I, II, III trials, and at least four were in advanced pre-clinical development stage.
Re-infection in COVID-19 recovered patients has become a cause of concern. Indian Council of Medical Research (ICMR) Director General Balram Bhargava has clarified that re-infection was possible even though it was a "very rare" occurrence. He also stressed that it was not a matter of serious concern. The remarks were made amid suspected cases of Covid-19 reinfection being reported from abroad and Indian states like Telangana, Karnataka, Gujarat, Punjab and Maharashtra.