One lakh Needy Children to get Nutritious food with 'Happiness Kit'
In India, school closures have impacted 247 million children enrolled in elementary and secondary education, and 28 million who were attending preschool education in Anganwadi Centres. This is in addition to the more than six million girls and boys who were already out of school prior to the Covid-19 crisis, according to UNICEF. When a nation'sstaggering 115 million children are at risk of malnutrition it is time for society to acknowledge that a catastrophic situation is brewing.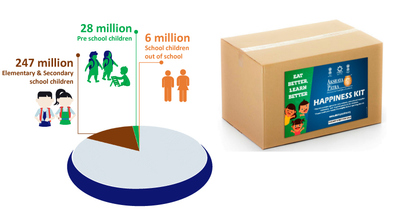 As the world's largest school lunch programme run by The Akshaya Patra Foundation was disrupted and families were pushed into poverty by the coronavirus pandemic, realization dawned that children from marginalised groups were headed towards triple ills of hunger, malnutrition, and starvation. With the aim to mitigate childhood hunger through the pandemic, The Foundation launched the Happiness Kit to support children from vulnerable communities and their families.
Happiness Kit comprises food items that provide essential nutrients for daily consumption leading to the health, growth, and development of a child. The pulses, spices, peanuts, jaggery, biscuits and other food items in the Kit, are to supplement and enhance the nutritional intake of children and their families, above and beyond the set allocation of grains by Central & State Governments and MHRD. The kit also includes a soap, a toothbrush, toothpaste, and sanitary pads to promote hygiene in children. To exercise their cognitive abilities, activity-based learning workbooks are also included in respective regional languages.
This kit contains essential nutrients like Glucose, Iron & Calcium, Iodine, Protein that help boost the immunity of the child. Each kit has a nutritional value of 717.5 g of protein and 22,175 Cal of energy, while on a per meal basis each child receives 23.9 g of protein and 739 Cal of energy.
It is only if basic requirements, such as nutrition-rich food, education, and basic hygiene, are met, can the country's future generations aspire to health, education, and a brighter future.
Having received enthusiastic support from the Happiness Kitpilot project which targeted 1,200 school children in Bangalore, and another 38,666 children in Guwahati, Akshaya Patra aims to scale up and expand the programme across locations to midday meal beneficiaries at their school premises, with student's parents picking up their kit.
Shridhar Venkat, CEO, The Akshaya Patra Foundation said, "As Indians, we must focus on creating high quality human capital which will define our demographic dividend. Stakeholders need to work together to create a robust and healthy population for the betterment of the nation through an inclusive society. This September as we observe the National Month of Nutrition, we launched the Happiness Kit initiative which has been created to take care of the nutritional and educational needs of children who are missing school due to the Covid-19 pandemic."
The Foundation amis to distribute 1,00,000 multi-utility kits by the end of September 2020, to the government school children till their schools re-open.
Till now the number of kits that have been distributed is close to 11,000. They are being distributed in locations such as Delhi NCR, Bangalore, Vadodara, Silvassa, Mumbai, Lucknow, Hyderabad, Guwahati as well as UP as a way of maximizing their reach and will continue to be distributed until the schools reopen, state-wise.