VACCINE PRODUCTION AND DISTRIBUTION OF PRIME IMPORTANCE, SEVERAL VACCINES ENTER THE FINAL PHASE OF TRIAL
People all over the world have been very optimistic about the corona virus vaccine and have been patiently waiting for its launch. Considering the vaccine to be the holy grail that will end the pandemic, many researchers are hoping that the pandemic will soon be under control while some researchers are being very realistic and say that even an effective vaccine will not bring life back to normal very soon.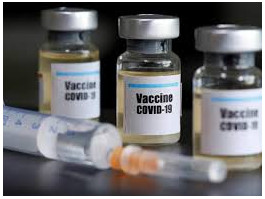 "A vaccine offers great hope for potentially ending the pandemic, but we do know that the history of vaccine development is littered with lots of failures," said Dr Fiona Culley, from the National Heart and Lung Institute at Imperial College London.
"Even when the vaccine is available it doesn't mean within a month everybody is going to be vaccinated, we're talking about six months, nine months or even a year," said Prof Nilay Shah, head of chemical engineering at Imperial College London.
However, the Indian Government is preparing a detailed plan on distribution of the vaccine to ensure that it reaches every citizen of the country who needs it at the earliest as several vaccines enter the final testing phase. According to Union Health Minister, "the Government is planning to distribute vaccines by July 2021 to around 25 crore (250 million) people out of country's 130 crore (1.3 billion) as it will be receiving between 400 and 500 million vaccine doses ."
India being a densly populated country requires a detailed plan prepared in advance to ensure hassle free and equitable distribution of vaccine to all parts of the country. For this purpose, state and UT governments have been advised to send details of "priority population groups" who will be first ones to receive the vaccine . "Vaccine procurement is being done centrally and each consignment will be tracked in real time. Priority will be given to frontline health care workers," said Dr Harsh Vardhan, Union Health Minister .
"The government is offering full support to Indian vaccine manufacturers and is committed to taking all measures to ensure equitable access to the vaccine," he added. Universal Immunisation Program (UIP) , introduced in India in 1978 will be adopted to distribute the vaccine. In India several candidate drugs have entered the final phase of testing and trials.
Three potential vaccines are being tested in India. Covshield, developed jointly by the University of Oxford and pharma giant AstraZeneca is in Phase 2 and Phase 3 human trials . Once successful the vaccine will be mass produced by world's largest manufacturer of vaccines by volume, Adar Poonawalla's Serum Institute of India (SII). Recently a UK media report in the beginning of October stated that Covishield, which is also being tested there as well, could be cleared by health regulators in UK by end of 2020 and be rolled out within six months.
Other vaccines like Bharat Biotech are in Phase 2 trials while COVAXIN and Zydus Cadila are waiting for approvals for their Phase 3 clinical trials .Thus a faint ray of hope still lingers that the vaccines might be out by July 2021.
Reference links-
https://www.bbc.com/news/health-54371559
https://www.ndtv.com/india-news/health-minister-harsh-vardhan-on-coronavirus-vaccine-plan-to-cover-25-crore-people-by-next-july-2304940