TELEMEDICINE SERVICES HAVE BEEN A BOON DURING THE PANDEMIC, eSANJEEVANI RECENTLY COMPLETED 6 LAKH TELE CONSULTATIONS
The eSanjeevani, a telemedicine service under Ayushman Bharat health initiative aims to connect 1.5 lakh health and wellness institutes established under Ayushman Bharat. It is a great initiative where patients can interact with doctors and seek consultation over audio and video calls without having to step out of their house during the pandemic.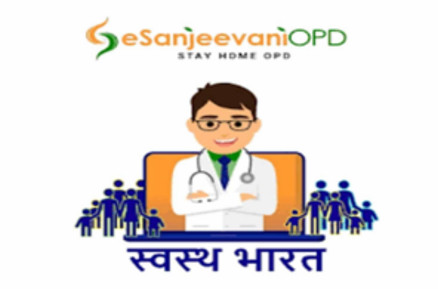 During the first phase of lockdown when the OPDs across the country were shut, the Union Health Ministry on 13th of April 2020 rolled out a customized eSanjeevani OPD to provide online health consultancy and since then eSanjeevani OPD has completed 6 Lakh tele consultations. eSanjeevani OPD enables every individual to seek medical advice and consultation through audio and video conferencing in just a few easy steps. All one needs to do is download the app from app store, register himself and generate the government token. The next step is to login with patient id and wait in the virtual waiting room. Soon "call now" button gets activated to start a video call. Patients can consult doctors virtually and receive e-prescriptions.
In just 15 days eSanjeevani completed the last one lakh consultations. eSanjeevani ensures quick and easy access to caregivers and the medical professionals and those seeking healthcare services in the challenging times of the pandemic. This telemedicine service has reduced the long queues outside clinics and its benefits reach to the masses in 27 States/UTs across India both rural areas and urban areas .
Ministry of Health and Family Welfare's telemedicine initiative, eSanjeevani has been a big hit and has successfully provided eHealth services through more than 6000 doctors who man 217 online OPDs in patient to doctor telemedicine model i.e. eSanjeevaniOPD. Currently, eSanjeevani is recording up to over 8500 consultations per day and is gradually gaining traction with patients and doctors. eSanjeevani OPD runs for 12 hours a day and 7 days a week in states of Tamil Nadu, Kerala and Gujarat It is a testimony to the fact that eSanjeevani.
Tamil Nadu (203286), Uttar Pradesh (168553), Kerala (48081), Himachal Pradesh (41607), Andhra Pradesh (31749), Madhya Pradesh (21580), Uttarakhand (21451), Gujarat (16346), Karnataka (13703), and Maharashtra (8747) are the top ten States which have registered the highest consultations through eSanjeevani and eSanjeevani OPD platforms.
Given that the benefits of eSanjeevani are many and it provides hassle free consultation with doctors, adoption of eSanjeevani OPD is being actively considered by States for inmates of old-age homes and prisons.
Reference Link-https://www.pib.gov.in/PressReleasePage.aspx?PRID=1668071