INDIA SHOWS A STEADY DIP IN ACTIVE CASES WITH HIGHER RECOVERY RATE , ONLY ABOUT 7.88% OF TOTAL CASES ARE ACTIVE
The fight with the pandemic has been long but it is the relentless effort of the State/UTs governments and health workers that now the situation is under control. The result of continuous monitoring and surveillance, quick hospitalization, aggressive testing and effective medication is that there has been a remarkable decline in the number of deaths due to covid with the recovery rate exceeding the fatality rate . In last 24 hours, covid 19 active cases have shown a downward trend with 6,25,857 active cases. Now only about 7.88% of total cases are active.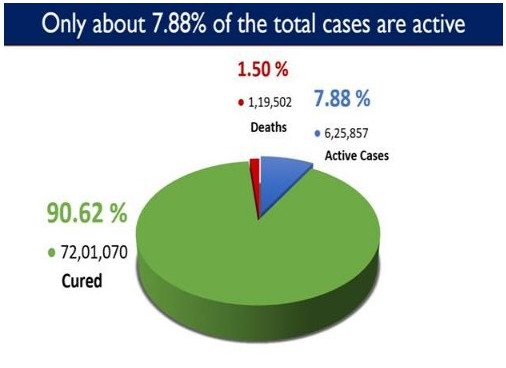 There has been a huge gap between the active cases (6,25,857) and the recovered cases standing at 72 lakhs (72,01,070) .The national Recovery Rate has further risen to 90.62% with 63,842 patients being discharged from hospitals in the last 24 hours.
In the initial days there was limited knowledge about the new virus and resources to treat patients but e-ICU started by AIIMS, New Delhi , brought a lot of relief to the healthcare system. This new initiative aimed towards reducing the fatality by building capacities of the ICU doctors in clinical management of critical patients. Knowledge experts for the doctors manning ICUs in the State hospitals have been conducting video consultation sessions twice a week since 8th July 2020. Till now 25 such consulting sessions have been held and 393 institutions across 34 States/UTs have participated in them.
It was a prudent decision on the part of many States to have conducted population surveys to gauge and identify the elderly, pregnant women and those with co-morbidities. This vulnerable population was given special attention and were under continuous observation through Mobile Apps. Systematic management of the migrants, effective lockdown policies and apps like Aarogya Setu have aided the early identification of the infection, timely hospitalization and reduction in fatalities.
Currently India's case Fatality Rate stands at 1.50%. New 488 fatalities have been reported in last 24 hours and out of these 80% are concentrated in ten States/UTs with Maharashtra reporting 84 deaths in a day. However, Maharashtra is also leading with more than 9,000 single day recoveries followed by Karnataka and Kerala with more than 8,000 and 7000 recoveries respectively.
Considering the large population of India and limited health resources at disposal as compared to other developed nations, India was able to curb the spread of the virus very efficiently with months since the outbreak of the pandemic. It is a good sign that there is a considerable fall in the fatality rate, the recovery rate is on spike and many vaccines have reached their final phase of clinical trials. This provides a ray of hope that soon the economy will be stable, schools and offices will re-open and our lives will return back to normal.
Reference links- https://www.pib.gov.in/PressReleasePage.aspx?PRID=1667755