Open Digital Health Ecosystem will accelerate India's journey towards universal health care: FICCI-BCG Report
In August 2020, the Prime Minister announced the launch of the National Digital Health Mission (NDHM) that aims to create an "open digital health ecosystem (health ODE)". This will be a shared digital infrastructure that can be leveraged by both public and private enterprises to build and provide new, innovative, healthcare solutions. Its key building blocks include standardized health registries, a unique patient Identity (ID), federated health records, interoperability, and automatic claim settlement engines.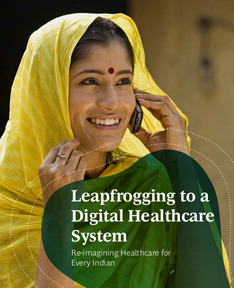 According to a FICCI-BCG Report on 'Leapfrogging to a Digital Healthcare System: Re-imagining Healthcare for Every Indian' the health ODE, to be implemented by NDHM, will revolutionize the Indian health sector by making digital a core component of the operating models for all health sector players.
"COVID-19 has brought to the forefront the need to strengthen healthcare infrastructure in India. It has also inspired promising disruptions and increased the acceptability of digital healthcare solutions as a viable alternative to traditional healthcare delivery models," it said.
The Report highlights benefits of Health ODE which include information transparency, interoperability, Standardized claim processing, Prescription digitization, Innovations, Access , and affordability among others.
"Access will undergo a fundamental shift with increased adoption of digital service delivery models such as e-consultation, e-pharmacy, e-diagnostics and e-ICU. This will especially increase demand for Out-Patient Department (OPD) care," the Report observed.
"Affordability will increase given an increase in provider discoverability – thus increasing provides choice. Increase in competition, coupled with reduction in administrative costs will lead to price rationalization in the sector," it pointed out.
According to the findings of the Report, with improved health outcomes there will be an increase in productivity which will lead to an additional benefit of USD 200-250 billion to India's GDP. This value will accrue as a result of three big shifts.
Patient trust will increase due to health registries – which will increase overall demand and allow patients to select providers as per their needs/ preferences. Diagnosis rates will increase for medical conditions. Due to higher OPD and more "consumerism" (patient's self-involvement in their care) –will be driven by aspects like digital health records. Health insurance products will undergo a paradigm shift. IInsurers' business models will transform due to overall reduction in costs. Coordinated care, more strategic purchasing, and patient self-care will reduce medical expenses. Additionally, administrative costs will reduce due to standardized claim processing. This will catalyze a stronger shift to managed care, including the introduction of the next generation of insurance products, including OPD insurance.
From volume-based to value-based healthcare: Currently, incentives across health stakeholders are misaligned. For example, the current provider business model rewards higher patient footfall – not higher quality health outcomes. Going forward, we expect digital health to improve care quality significantly. Patient behaviors will improve as they are able to better access healthcare and get more involved in their wellness journey with access to longitudinal digital health records. Some payors might even increase financial incentives for such behaviors by gamifying insurance premiums.
The Central Government will play a critical role in shaping the Health ODE's evolution including policies, standards, and the overall design of the systems and processes. It will ensure that all solutions are tethered to patient benefit (such as improved health outcomes and data privacy), while also lowering overall health system costs.
State Governments will play a dual role. Firstly, ensure high-fidelity roll-outs of the Health ODE (registration of patients and providers), and drive on the ground change management. (e.g: strengthening Health ODE narrative, stakeholder incentivization). Secondly, identify implications of the Health ODE on its existing roles of a provider and an insurer. For instance, adopt the Health ODE as a provider– and leverage the ODE to improve healthcare qualityfor its citizens (e.g., fund population mgmt. models, higher reimbursement for high quality private providers) Additionally, state governments will have to expedite seperation of its role as a provider, payor and regulator to avoid conflicts
The Government will require a fundamental digital transformation both in its role as the Health ODE custodian and as a participant. This transformation will include improving the talent pool in government workforce, process redesign, and Information Technology (IT) systems overhaul.
Health tech start-ups stand to benefit the most and are expected to drive the consumerism of healthcare with higher patient engagement. New players will emerge, and business models will undergo significant shifts. New class of intermediaries will emerge to build the very foundation of the digital infrastructure such as health facility verifiers, consent managers, and health locker providers. Health tech players will have to re-visit their product market fit, operating models, and business models to identify new opportunities for top-line and bottom-line growth.
Roles and implications for providers
New demand pools and market opportunities will open-up with an increase in healthcare access (with e-OPD, e-ICU, etc.) and affordability. However, the "basis of competition" will change. Provider choice and even reimbursement from payors, will be driven by "healthcare value" (i.e. better patient health outcomes and better patient experience).
Operating models will evolve both clinical (with increased usage of e-OPD, AI/ ML based clinical decision support system) as well as administrative -- with Health registries and change in process of payor empanelment, claims settlement etc. Cost structures will improve with administrative process efficiencies arising from digital ways-of-working.
Key implications
A health ODE will accelerate India's journey towards universal health care and open multiple economic opportunities for all stakeholders. However, in order to make such an ecosystem a reality and to reap its benefits, all players will have to come together and make three concerted shifts, notably. Shift in mindset from "siloed care delivery" to "collaborating and providing continuum of care to patients".
Additionally, key risks (such as the risks associated with data security and poor data quality) will have to be mitigated during the design phase itself to ensure success. Natural incentives will also have to be built-in for all stakeholders to adopt the digital platforms. Once implemented, such an ecosystem will greatly empower patients by providing increased choice of service providers. This will lead to an unprecedented change in products and delivery models. Healthcare players will thrive or perish, depending on how quickly they adapt to the new environment. Overall, this could lead to India leapfrogging its healthcare evolution curve.