Government Panel warns Delhi may witness 15,000 Covid-19 cases per day in festive Seasons and Winters
A report prepared by the National Control for Disease Control (NCDC) has cautioned that the national Capital needs to gear up to tackle the surge of 15,000 Covid-19 cases per day in upcoming winters and festivals. The report recommended that the Delhi government should get prepared for a daily surge of about 15,000 Covid cases and make arrangements for inpatient admissions of patients with moderate and severe disease roughly amounting to 20% of this surge.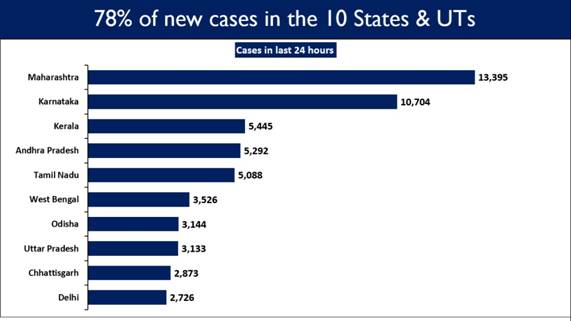 The report ,drafted by the NCDC under the supervision of Dr VK Paul, Chairman of NITI Aayog Member (Health), emphasises on the prevention of infection among health care workers. "Till date about 2324 of healthcare workers have been affected due to Covid19 in Delhi of which 23 percent are doctors, 34 percent are nurses, 15 percent are paramedics, 18 percent are group D staff and 10 percent others. A total of 75 deaths are reported in healthcare workers of which 14 are of doctors which may be under reported. The increasing mortality in HCW and doctors is detrimental to maintaining the morale of these Covid warriors. Hence all efforts should be undertaken to prevent the Health Care-associated infection in all the hospitals, labs and field workers engaged in an active survey in the containment zone," it said.
Meanwhile , 70,496 new confirmed cases were recorded in last 24 hours in India and 78% of the new cases are from reported 10 States and UTs. Presently the active cases stand at 8,93,592 and comprise merely 12.94% of the total positive cases of the country demonstrating a steady falling percentage of the total cases. India continues to report a trend of steadily dipping active cases. After a month, for the first time, active cases fall below the 9 lakh mark. India registered 8.93 lakh active cases today after registering 8.97 lakh on 9th September. The declining trend of the percentage active cases is commensurately supported by rising percentage of recovered cases. The total recovered cases stand at 59,06,069.
The gap between Recovered cases and Active cases has crossed 50 lakh (50,12,477). Higher number of recoveries has aided the national Recovery Rate to further improve to 85.52%. 78,365 have recovered and discharged in the last 24 hours whereas the new confirmed cases stand at 70,496. New Recoveries in India have exceeded the New Cases for three continuous weeks, unabated. The new cases during these three weeks have displayed a steady trend of decline.
Maharashtra continues to be the State reporting a very high number of new cases with more than 13,000 cases followed by Karnataka with more than 10,000 cases. 964 case fatalities have been reported in the past 24 hours. Of these, nearly 82% are concentrated in ten States/UT.
The NCDC in its 'Revised Strategy for control of Covid-19 version 3.0' has noted that contact tracing strategy needs to be more rationalized. It recommended to take measures to minimize gatherings during coming festivals.
" Large gatherings are super-spreading events. These must be avoided. Coming festivals (Chhat, Puja, Dussehra, Deepavali, Id, Xmas, New year) pose a huge challenge in pandemic control. It has been seen that Onam in Kerala and Ganesh Chaturthi in Maharashtra escalated the pandemic seriously. This must not be allowed to happen in Delhi," the report warned.
"Our emerging gains in reduction in cases will be reversed because of these festivities and the rush in markets/localities. Such a setback that is potentially avoidable will dent the image of the capital and the country," it said adding that the next 3 months are crucial in our battle with coronavirus," it said.
The NCDC has opined the Delhi government to focus on vulnerable populations that are elderly, co-morbid patients and recommended a periodic review of the triage facilities and training need assessment for medical staff to triage the patients as per the severity of illness and risk assessment for selection of facility.