ACTIVE CASES CONTINUE TO DECLINE, CASES BELOW 6 LAKH FOR THIRD CONSECUTIVE DAY
India has been witnessing a declining trend in active cases. Presently 5,70,458 is India's total active caseload and active cases have shown a significant dip to just 6.97% of the total positive cases of the country. Through , timely tracking , rapid testing, quick surveillance and effective hospitalization India has managed to maintain a progressive decline in active cases now below the 6 lakh mark after almost three months.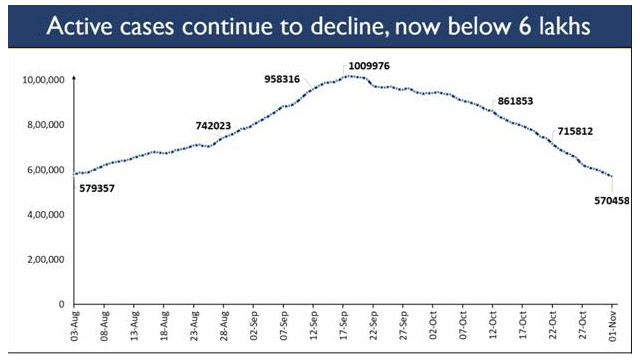 The States/UTs joint effort left no stone unturned to bring the situation under control. The declining number of active cases in all parts of the country are a testimony of the efforts put in by the state governments and adherence to the Standard Treatment Protocol. Karnataka has reported a steady decline in its active cases in the past 24 hours followed by Maharashtra, Tamil Nadu and Assam.
The cases per million in India are among lowest in the world with a consistent and gradual decline in the number of active cases . India's average cases per million stand at 5,930 while Russia is at 11,088, South Africa at 12,201, UK at 14,579, France at 19,905, Brazil at 25,848 and USA with the highest at 26,745. 17 States/UTs have cases per million lower than the national average.
Also the number of deaths in India has seen a downward trajectory with 470 deaths reported in the last 24 hours in the country. India's deaths per million population stands at 88 which is one of the lowest in the world .21 States/UTs have deaths per million lower than the national average. The number of recovered cases have surpassed the percentage active cases .The gap between active cases and recovered cases has increased drastically and now has crossed 69 lakh (69,21,055). The total recovered cases stand at 74,91,513. Thankfully recoveries are more than fatalities now.
Higher number of recoveries has pushed the national Recovery Rate to to 91.54%. In tha last 24 hours 58,684 people have recovered and have been discharged but the new confirmed cases stand at 46,963. 76% of the new recovered cases are concentrated in 10 States/UTs. States of Karnataka, Kerala and Maharashtra have contributed the maximum to the new recovered cases with more than 7,000 single day recoveries while Delhi and West Bengal have added more than 4,000 to the new recoveries. However, Kerala is still reporting more than 7,000 cases followed by Maharashtra and Delhi with more than 5,000 cases.
Although the fatality rate has fallen still 470 case fatalities have been reported in the past 24 hours out of which nearly 78% are concentrated in ten States/UTs. More than 15% of new fatalities reported are from Maharashtra (74 deaths) followed by Chhattisgarh, West Bengal and Delhi.
https://www.pib.gov.in/PressReleasePage.aspx?PRID=1669254