Union Health Ministry urges State Health Minister to Promote 'COVID Appropriate Behaviour'
In an interaction with the State Health Ministers and Principal Secretaries of 9 States namely Andhra Pradesh, Telangana, Assam, Rajasthan, West Bengal, Himachal Pradesh, Punjab, Haryana and Kerala, Union Minister of Health and Family Welfare, Dr. Harsh Vardhan stressed on the importance to observe Covid Appropriate Behavior. He urged the Health Minister's of all the 9 States to ensure that their respective States are aligned to Prime Minister's Jan Andolan.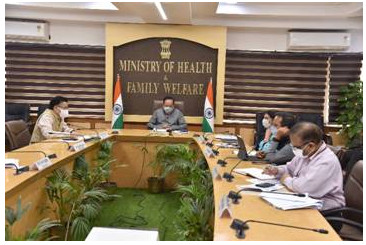 The Union Health Minister was concerned about the rise in the number of cases in some districts in the States with the onset of winter and forthcoming festive season. Also gradual decline in testing has led to higher number of deaths among the vulnerable population groups like senior citizens, children and pregnant women.
Dr. Harsh Vardhan said, "We all need to be more vigilant for the entire festive season that started with Dussehra and would continue onto Diwali, Chhat Puja, Christmas and then onto Makar Sankranti in the next year. Respiratory virus also spreads rapidly in the winter months."
He assured everyone that the Centre is taking necessary precautions to contain the spread of the infection and has made provisions for general, oxygenated and ICU beds at each level of COVID care hierarchy. He also added that the trajectory is being monitored personally by the Prime Minister. "The Prime Minister has addressed the nation on various issues of COVID several times. He has held intense discussions with all CMs and Heads of UTs. His latest address was only of ten minutes but had the important message of continued adherence to COVID Appropriate Behaviour and its transformation to a Jan Andolan", he said.
Elaborating on the measures taken by the government to promote Jan Andolan, like dissemination of the message through caller tune and other IEC activities, he stressed on promoting COVID Appropriate Behaviour to fight against COVID. The State Health Ministers informed Dr. Vardhan about the actions taken for containment, surveillance and treatment of the COVID positive cases.
Shri Rajesh Bhushan, Union Health Secretary drew everyone's attention on ten key areas to contain COVID :-
• Increase in testing
• markets, workplaces religious congregations should have targeted testing
• Increasing in share of RT-PCR in testing
• compulsory testing of symptomatic RAT negatives
• Within the first 72 hours completion of contact tracing
• an average of 10-15 contacts per new case detected
• To curb the percent of deaths within 24-72 hours of hospitalization promote health seeking behaviour
• To bring mortality below 1%, conduct hospital wise death analysis daily
• Protection of vulnerable groups such senior citizens and those with co-morbidities
• Observance of COVID appropriate behaviour