NITI Aayog reviews COVID-19 Management and Practices from States & UTs
Delhi adopted a multi-pronged approach including increased testing, stringent management of containment zones, home isolation for patients with mild symptoms as well as serological surveys, says a Report released by NITI Aayog.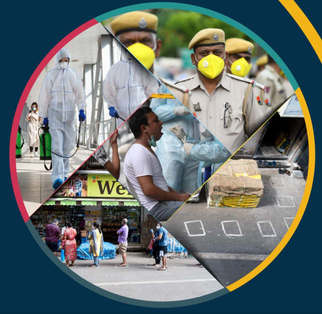 'Large-scale expansion of COVID specific health infrastructure was also carried out. The Sardar Patel COVID Care Centre, one of the largest facilities of its kind, was inaugurated in Delhi on 5 July, 2020. The 10,000-bedded facility includes two segments - a COVID Care Centre (90% of the beds) for isolation of asymptomatic individuals and a Dedicated COVID Health Centre (10% of the beds), equipped with oxygen support, where symptomatic cases are treated," expounds NITI Aayog Report on Mitigation and Management of COVID-19. 51
NITI Aayog recently released a compendium of practices from states and union territories that details information about various initiatives implemented by states, districts, and cities in India for containing and managing the Covid-19 outbreak.
Over the past several months, the world has been facing an unprecedented public health crisis in the form of Covid-19. States and union territories have been equal partners of the Central Government in managing the Covid-19 outbreak in the country.
In preparing the compendium of practices, NITI Aayog reached out to all states and union territories by email and telephonically, requesting them to share any practices that they believe had been useful for Covid-19 mitigation and management. Additional information was provided by some states during review meetings with Member (Health), NITI Aayog. Sourcing of information directly from states/UTs was supplemented with a comprehensive literature review.
The practices in the compendium have been disaggregated under six sections: (i) public health and clinical response (ii) governance mechanisms (iii) digital health (iv) integrated model (v) welfare of migrants and other vulnerable groups (vi) other practices. A summary of the relevant Government of India guidelines has been included for the aforementioned categories, wherever applicable.
Practices adopted by states/UTs in the fight against Covid-19 range from preparation of comprehensive route maps for contact tracing to operationalization of mobile vans for testing and providing essential health services to the doorsteps of people. Technology has been leveraged extensively by several states and UTs, including the use of robots for delivering food, water, and medicines to patients in hospitals as well as training health personnel using virtual pl