India reports less than 40K Daily New COVID-19 Cases, Pfizer Vaccine meets efficacy norms
India has registered less than 40,000 daily new cases after six days. The number of daily new cases in the last 24 hours is 38,073, according to Union Health Ministry. For the third day in a row, daily new cases have been sustained below the 50,000 mark. This assumes significance in the context of some countries reporting a very number i.e. as high as one lakh cases per day since the last 3-4 days.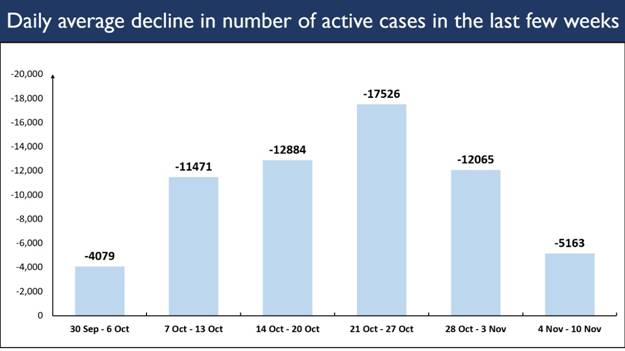 Meanwhile in a very promising note global pharma giant Pfizer claimed that an early peek at its vaccine data suggests the shots may be 90% effective at preventing Covid-19. The company will be on track later this month to file an emergency use application with U.S. regulators, according to media reports. However, the company was quick in saying that initial studies do not mean a vaccine is imminent.
Dr. Bill Gruber, Senior Vice President ( Clinical Development) Pfizer's reportedly said, "We are in a position potentially to be able to offer some hope and we are very encouraged." Authorities have stressed that it is unlikely any vaccine will arrive much before the end of the year and limited initial supplies will be rationed.
The shots made by Pfizer and its German partner BioNTech are among 10 possible vaccine candidates in late-stage testing around the world - four of them so far in huge studies in the U.S. Another U.S. company, Moderna Inc., also has said it hopes to be able to file an application with the Food and Drug Administration (FDA) later this month.
FDA has required that U.S. vaccine candidates be studied in at least 30,000 people. In addition to adequate numbers of older adults, those studies must also include other groups at high risk, including minorities and people with chronic health problems. And it told companies they must track half their participants for side effects for at least two months, the time period when problems typically crop up. Pfizer expects to reach that milestone later this month, but said Monday no serious safety concerns have been reported.
In India, the COVID-19 curve has already flattened. There has been a sustained decrease in the number of active cases over the past few weeks. For the 38th day today, recoveries have exceeded the daily new cases with 42,033 cases recovering in the last 24 hours. The Active Caseload has shrunk to 5,05,265. Present contribution of Active Caseload to India's total positive cases stands at 5.88%, following a declining curve. The Recovery Rate has also, as a consequence, increased to 92.64%.Total Recoveries as of today is 79,59,406. The gap between recovered cases and active cases has widened to 74,54,141.
Delhi continues to report the highest daily new cases; 5,983, which is less than its previous day tally of 7,745 new cases. Delhi is followed by West Bengal with 3,907 new cases. Kerala's daily case has declined to 3,593 while Maharashtra's new cases have declined to 3,277 cases although they occupy the third and fourth spot in reporting daily new cases.