Delhi records 7,745 new cases-the highest number of daily cases reported so far by any city
India on Monday reported 45,903 new cases of the novel coronavirus infection in the last 24 hours. The caseload in the country now stands at 85,53,657. With 490 new deaths, the death toll in the country mounted to 1,26,611. There are a total of 5,09,673 active cases after a decrease of 2,992 cases in the last 24 hours. A total of 79,17,373 have cured from the disease, while 48,405 people have been discharged in the last 24 hours.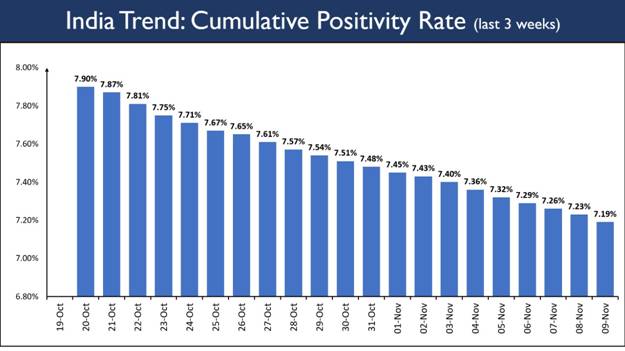 Meanwhile, National Capital -Delhi saw 7,745 new cases on Sunday — the highest number of daily cases reported so far by any city. This takes the total number of cases in the city to 4,38,529 while the death toll rose to 6,989 with 77 fatalities. The city performed 50,754 tests in the last 24 hours, recording a positivity rate of 15.26%. Over the last two weeks, the number of active Covid-19 cases has increased by more than 16,000 — the highest ever in the last six months — owing to the rising number of daily infections. Last week alone, Delhi reported over 6,000 daily cases, barring Monday (November 2) which saw 4,000 cases.
The twin factors of rising air pollution and a surge in Covid cases have increased the burden on Delhi's hospitals with the number of vacant beds shrinking fast and out patient departments (OPDs) witnessing a spike in footfall, doctors said.
Across the country, new daily cases have been trending downward since 15th of October. Keeping with the trend of recoveries outnumbering new cases, nearly 49,000 patients have recovered in the last 24 hours. This trend has been observed for the 38th day today. This has played a pivotal role in pushing down the active caseload.
The active caseload in the country is 5,09,673 today. These cases contribute around 6 % of India's total positive cases, indicating a sustained downward trend. The Recovery Rate of 92.49% is a reflection of the 79,17,373 recovered cases. 76% of the new recovered cases are observed to be concentrated in 10 States/UTs.
Kerala displaced Maharashtra to have the maximum number of single day recoveries.7,120 people recovered in Kerala during the last 24 hours followed by 6,478 in Maharashtra. Kerala reported 7,201 cases in the last 24 hours followed closely by Delhi with 6,953 cases. Maharashtra has come a distant third with 3,959 new cases yesterday.
Amid growing backlash from the opposition BJP, Maharashtra Chief Minister Uddhav Thackeray on Sunday said that his government will soon reopen places of worship across the state after Diwali and is ready to face any criticism for the welfare of his state till then. The chief minister also urged citizens to avoid burning fire crackers and continue wearing masks during the festive period. In a public address via video-conferencing, Thackeray said: "We will open the temples and places of worship soon. Let Diwali be over. But even when we open the temples, you can leave your chappals [slippers] outside but not your mask."