A SLIDE IN ACTIVE CASES HAS LED TO RISE IN RECOVERIES, DAILY NEW CASES FALL BELOW 40,000
As per data released by Union Health Ministry, in India the total number of recoveries have exceeded the active cases by 70 lakhs. India reported 38,310 new cases after 105 days (15 weeks). With this the new confirmed cases in the last 24 hours have fallen under 40,000 and the rate of recoveries has accelerated in the country.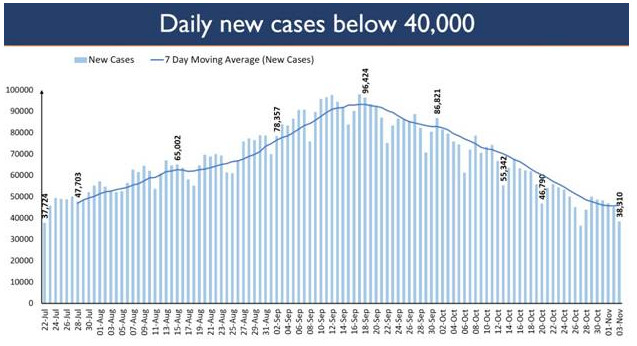 India has been witnessing a declining trend in active cases. This has been possible due to timely tracking , rapid testing, quick surveillance and effective hospitalization . Talking about rapid testing, India has crossed the landmark of 11 crore total tests and has managed to maintain a progressive decline in percentage of active cases which have now reduced more than 3 times in the past 2 months. With the consistent effort of State/UT governments testing capacities of the country have multiplied.
The eSanjeevani, a telemedicine service under Ayushman Bharat health initiative was very instrumental in cutting down on the spread of the virus. People did not have to move out of their homes to seek medical assistance from health experts. They could easily interact with doctors and seek consultation over audio and video calls without having to step out of their house during the pandemic. Continuous testing led to early identification of the infection enabling people to isolate themselves from their family members at the earliest.
The number of active cases have fallen below 5.5 lakh widening the gap between recovered and active cases. The total positive cases of the country comprise just 6.55% of the total cases and now stand at 5,41,405. More number of people are now responding to medication and are recovering quickly. This has resulted in considerable decline in mortality rate.
The national recovery rate at present is 91.68% . The gap between active and recovered cases has crossed 70 lakh mark . 80% of the new recovered cases in the past 24 hours are from 10 States/UTs with 58,323 patients having recovered and discharged from hospitals in last 24 hours. The total number of recoveries have crossed 76 lakhs (76,03,121). The state with highest number of recoveries is Maharashtra with more than 10,000 single day recoveries followed by Karnataka with more than 8,000 recoveries .
However new confirmed cases have been reported in the last 24 hours in the country and 74% of these new cases are concentrated in ten States/UT. Kerala is the leading the number of active cases with 4138 cases followed by Delhi and Maharashtra with more than 4,000 cases. West Bengal follows with more than 3,000 new cases.
India's case Fatality Rate has reduced significantly over months and now stands at 1.49%. 80% of fatalities have been reported in 10 States and UTs in the past 24 hours and 490 deaths have been registered in the past 24 hours. Maharashtra tops the chart with104 deaths followed by Chhattisgarh ,West Bengal, Delhi, Tamil Nadu and Karnataka.