Biggest single-day rise of 24,879, India's Total COVID-19 Cases rise to 7.67 Lakhs
India's total coronavirus cases increased to 7,67,296, with as many as 2,69,789 active cases, while recoveries stood at 4,76,377. According to Union Health Ministry data, the death toll climbed to 21,129. In the past 24 hours, the total number of cases rose by 24,879 with active cases rising by 4,845. The recoveries increased by 19,547, while the number of dead in the last 24 hours jumped by 487. Total cases see biggest single-day rise of 24,879, taking national tally to 7,67,296. Active cases see lowest single-day rise in last 6 days. Recoveries also witness the second biggest single-day rise of 19,547 with recovery rate rising above 62%, the highest ever.
States have followed the direction of the Union Ministry of Health and Family Welfare to substantially increase testing with the deployment of RT-PCR tests, Rapid Antigen Tests which have helped in early identification of the cases. The ramped up healthcare infrastructure in the States has resulted in distribution of the positive cases in different healthcare facilities including Dedicated COVID Hospitals, COVID Health Care Centres and COVID Care Centres. This coupled with effective treatment has ensured in keeping the case mortality low. Ramping up of Dedicated COVID facilities within the public and private sectors has ensured timely triaging and treatment of the patients.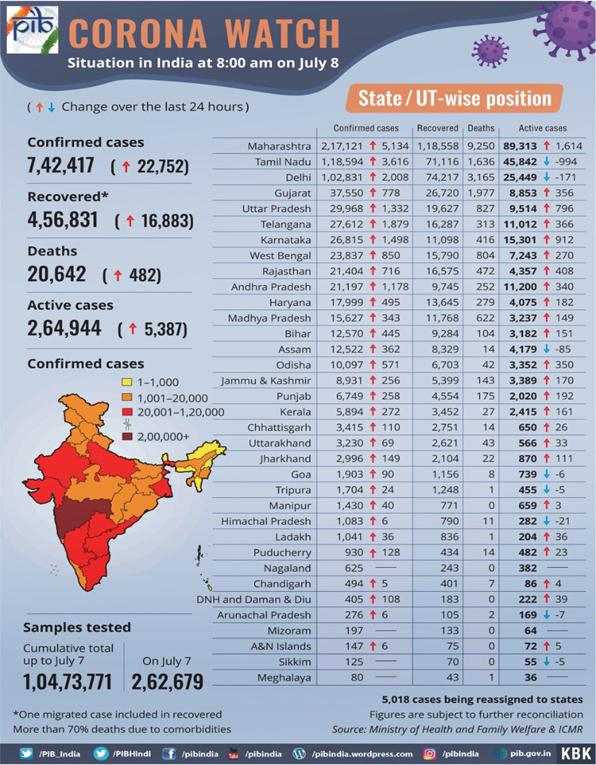 Along with testing, contact tracing and house to house surveys has been intensified especially in the containment zones. States have been specifically advised to ensure that at least 80% of new positive cases have their contacts traced and quarantined within 72 hours of confirmation of the positive case. States have developed several mobile apps to keep track of high risk populations including the senior and elderly population, people with comorbidities, pregnant women and small children. The involvement of the community, ASHAs and ANMs at the local government has led to effective surveillance in the community
Meanwhile, Union Health Ministry has involved specialist doctors from AIIMS, New Delhi to provide expert guidance and knowledge support to doctors manning ICUs in State hospitals. Tele-consultation is a critical component of the clinical intervention protocol for COVID-19. A specialist team of doctors from AIIMS, New Delhi shall provide guidance on effective clinical management of COVID-19 patients in the ICUs of different State hospitals through tele/video consultation. They will handhold the States in clinical management of COVID-19 patients to reduce the case fatality rate. These tele-consultation sessions for providing timely and expert guidance to the doctors in the States shall be conducted twice every week, on Tuesdays and Fridays. The first session of this exercise has begun.