Cancer therapy developed by BARC, successfully used by AIIMS
Eye cancer therapy developed by Bhabha Atomic Research Centre (BARC) has been successfully used for the first time in AIIMS-Delhi for treating patients with ocular tumours and the results of using Ruthenium 106 plaque for treating patients with choroidal hemangioma have been found to be satisfactory.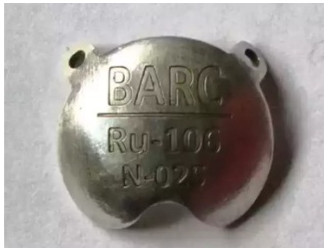 BARC was lauded by Jitendra Singh, Junior atomic energy minister, who facilitated the collaboration between the Department of Atomic Energy and Dr Rajendra Prasad Centre for Ophthalmic Sciences, AIIMS, for developing the "simple and cost-effective therapy" for patients with eye cancer.
A DAE statement said that the BARC-developed plaque is said to be on par with international standards and its handling is very convenient for surgeons. Ruthenium plaque therapy involves placing a radioactive source like Ruthenium-106 (a radioisotope) in contact with the surface of the eyeball for cancer therapy. Ru-106 has a simple and slim design and one plaque can treat about 50 patients and its usable life is one year.
Apart from AIIMS, it has been made available free of cost to Hyderabad-based Centre for Sight and Sankara Eye Hospital in Bengaluru. This Ruthenium-106 plaque also gives a boost to PM Narendra Modi's 'vocal for local' as it is indigenously developed by BARC.
Till now the BARC plaques have been used in seven cases of ocular cancer, according to Dr Atul Kumar, professor and head of Dr Rajendra Prasad Centre for Ophthalmic Sciences, AIIMS. Out of the seven, two were used in cases of retinoblastoma, two for choroidal melanoma, two for ocular surface squamous neoplasia and one for choroidal hemangioma.
Praising the relentless efforts of DAE, Jitendra Singh said that in the last five years, DAE has striven to diversify its activities and applications for the benefit of the common man and developing the indigenous plaque brachytherapy for eye cancer patients is one such initiative in the area of medical management.
Jitendra Singh, who also handles the ministry of development of North Eastern Region, informed that the Borooah Cancer Hospital in Guwahati has been co-opted with the Tata Memorial Cancer Hospital, Mumbai, which functions under the aegis of the DAE.