India-Israel Cooperation in Healthcare: Testing of Israel Technologies to Detect COVID-19 promises encouraging results
Emphasising on the great importance in cooperating with India in the fight against Corona, a team of experts from Israel, who had arrived in India on Sunday, started testing their technologies to detect COVID-19 at Dr Ram Manohar Lohia Hospital here and the trials of four technologies developed by Israeli scientists gave promising results. These technologies can detect the virus within a few seconds!
About 10,000 people will be tested twice; once using the gold standard molecular RT-PCR test and then the four Israeli technologies to evaluate whether these innovations will work in a field setting. Unlike the swab sample collection method, for this test, people will have to blow into or speak in front of a breathalyser sort of an instrument which will collect a sample for testing. If successful, these technologies can pave the way for the safe opening of businesses and people will be able to coexist with the virus till a vaccine is developed, according to experts.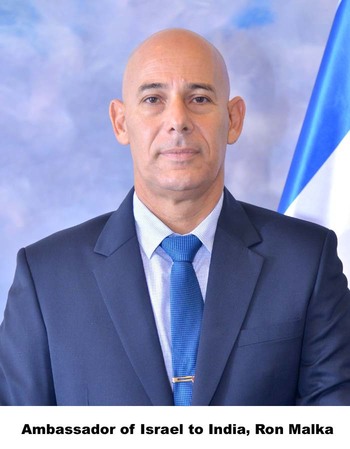 "The diagnostics are being tested in a collaboration between the Israeli Defence R&D, the Defence Research and Development Organisation (DRDO), and Council of Scientific and Industrial Research (CSIR). The first technology attempts to detect the virus by a technique called terahertz spectroscopy. In this, a sample is taken, deposited on a chip and then examined in a manner that specifically detects SARS-CoV-2 virus that causes Covid-19. This does not involve any chemistry or reagents as it does in the current standard tests. The results will come in less than a minute," Professor K Vijay Raghavan, Principal Scientific Advisor to Prime Minister Narendra Modi reportedly said.
Raghavan said the second approach is called an isothermal test, and it amplifies the genetic material of the virus rapidly. "The third approach detects what are called poly amino acids specific to the virus. The fourth approach is to study speech samples from asymptomatic and presymptomatic patients, compare them with others and see if the tools of artificial intelligence can be used to identify those who are Covid-19 positive. All these approaches are working well in the laboratory setting, but the challenge is to see how they will work in a field setting," he added.
The final product can be a combination of two or more technologies as well. "We will see which of the four technologies works better at detecting Covid-19 afflicted people. It could be a combination of two of these technologies as well. We hope to see a very robust diagnostic test finally," said Israeli ambassador to India Ron Malka.
India's manufacturing capacity, the ambassador said, made India a natural fit for these trials. "We are a small country and do not have the manufacturing capability like India. By combining advanced Israeli and Indian technology and India's manufacturing prowess, we can find a way to resume our lives and exist alongside the virus till a vaccine is developed," he said.
Apart from the extremely rapid tests that India and Israel are collaborating on some other innovatie technologies. Some of the most innovative technologies developed in Israel to combat Covid-19 were also shared with the All India Institute of Medical Sciences by the Israeli delegation.
The high level Israel delegation to India includes approximately 20 experts in various fields, from the Ministries of Defense, Foreign Affairs and Health, as well as from the Israeli Defence Forces and various industries involved in the development of the diagnostic solutions. The delegation is led by Israel's defense attaché to India, as well as Israel's Ambassador to India, Dr. Ron Malka.
The delegation includes Merging Israel's technological expertise with India's mass production capabilities, the two countries hope to make major headway in the fight against COVID-19 pandemic. The results of the joint efforts can then be marketed to other countries around the world.
Prime Minister Narendra Modi and his Israeli counterpart Benjamin Netanyahu have held three telephonic conversations since the outbreak of the pandemic and promised mutual assistance in dealing with the virus, committing to joint technological and scientific research between the countries.