Recoveries cross 1 crore mark with steady decline in daily new cases
India's fight against Covid19 has been long and eventful. The country has achieved several significant milestones in its fight against COVID with a sustained, pro-active and calibrated strategy. In the last 24 hours in the country only 18,139 people were found positive, 20,539 recoveries were recorded and a net decline of 2,634 cases from the total active caseload was registered.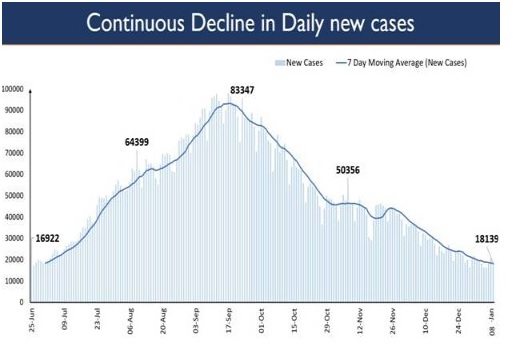 The gap between active cases and recoveries keeps widening and India's cumulative recoveries have crossed 1 Crore. There is a considerable decline in mortality rate as more number of people are responding to medication and are recovering quickly. The active caseload of the country has shrunk considerably and presently stands at 2,25,449. At present India's active caseload is just 2.16%. of total Positive Cases.
With the consistent rise in the daily recoveries, the number is exponentially increasing. It stands at 10,037,398 today. The Recovery Rate has also increased to 96.39%.
79.96% of the new recovered cases in the past 24 hours are from 10 States/UTs. The state with highest number of recoveries is Kerala with 5,639 single day recoveries followed by Maharashtra with 3,350 new recoveries and West Bengal with 1,295 recoveries.
However new confirmed cases have been reported in the last 24 hours in the country and 81.22% of these new cases are concentrated in ten States/UT. Kerala is leading the number of new active cases with 5,051 cases followed by Maharashtra with 3,729 and Chhattisgarh with 1,010 new cases.
India's case Fatality Rate has reduced significantly over months. 76.50%case fatalities have been reported in 8 States and UTs in the past 24 hours and 234 deaths have been registered in the past 24 hours. Maharashtra tops the chart with 72 new deaths followed by Kerala and Delhi with 25 and 19 new deaths, respectively.
India's deaths per million population are 109. 18 States/UTs have deaths per million population lower than the national average. On the other hand, 17 States/UTs have deaths per million higher than the national average. Delhi has reported the maximum deaths per million population (569).