Adverse event following immunization (AEFI) ratio about 1 in 1,000, expected for any vaccination
India began its massive vaccination drive on January 16 with the aim to ensure fair and equitable immunization for all the citizens against the coronavirus. The inoculation drive has been successful to a great extent but mild side effects after jab were reported for a few beneficiaries.
On Monday, fourteen healthcare workers complained of uneasiness after taking the Covishield shot. Out of the fourteen, two women were hospitalized with mild side effects and their condition was monitored while the rest twelve were sent home after they felt better.
Director of Health Services (DHS), Ajay Chakraborty said, "While a 34-year-old woman complained of shivering and vomiting, a 46-year-old woman reported respiratory symptoms and nausea. Both are under hospital care, first one at Diamond Harbour Medical College and the second one at Falakata Multi Specialty Hospital. Today's adverse event following immunization (AEFI) ratio is about one in 1,000, which is expected for any vaccination."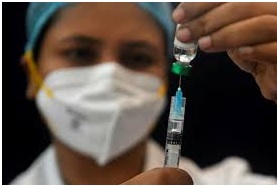 "An AEFI is any untoward medical occurrence following immunization, and it does not have a causal relationship with the vaccine. It can be a result of the vaccine or a coincidental event, which is not due to immunization but temporally associated with it," said clinical trial expert Santanu Tripathi, former head of clinical and experimental pharmacology at School of Tropical Medicine.
A nodal team, in addition to the AEFI management teams at vaccination sites has been set up by the health department to monitor all adverse events of vaccination across the state.
According to experts, the adverse events can be categorized as minor, severe or serious. Minor effects do not require medical attention, while severe and serious cases need medical care as they lead to the patient's hospitalization and can turn fatal if medical assistance is not provided.
In other news a glaring mistake has irked many doctors and other medical staff, as the first list sent to the department of health for coronavirus vaccination, names of doctors and junior doctors from seven departments of Medicos of Gandhi Medical College (GMC), working in the critical Covid-19 care centre and fever clinics for the past 10 months are missing. It includes departments of medicine, anaesthesia, pulmonary medicine, radiotherapy, ENT, pharmacology and paediatrics.
On Monday, the Central Medical Teachers' Association of MP (CMTA-MP) submitted a letter to the GMC dean and urged that the priority list should comprise medicos who are working on core Covid-19 care, said CMTA-MP general secretary, Dr Rakesh Malviya.