Delhi touched the daily toll of 395, positivity rate around 33%
India is currently fighting an uphill battle with the sudden and unprecedented surge in Covid-19 cases. The daily toll of coronavirus in Delhi touched 395 on Thursday, the highest till date. It means 16 people died in the city in every one hour a day before.
Earlier, on April 27, 381 deaths were recorded in a day. From April 1 to April 29, Delhi has recorded 5,475 deaths, averaging 189 fatalities daily. In March, the average deaths reported daily were around four.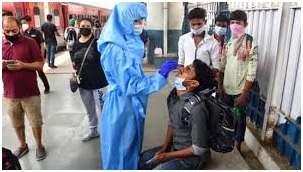 The number of new cases reported on Thursday was 24,235, lower than Wednesday's 25,986. However, the low numbers were due to very low testing. In the last 24 hours, data shared by the state health department shows, only 73,851 tests were conducted, of which 54,600 were done using RT-PCR and 19,251 were rapid antigen tests. In April second week, the city conducted over one lakh tests of which nearly 70,000 tests were done using RT-PCR, which is considered the gold standard for testing COvid-19.
The positivity rate is around 33%, meaning one in every three persons getting tested is positive for the disease. "This is because of lower testing. Only highly symptomatic or direct contacts of positive cases are getting tested. There is little or no contact tracing or large scale testing happening in Delhi," said a senior doctor.
On the brighter side, the recovery rate has increased. On Thursday, the government said 25,615 people had recovered in the last 24 hours. Now, the total number of active Covid-19 cases stands at 97,977 from Wednesday's 99,752.
The availability of oxygen and ICU beds remains scarce though. Data shared by the state health department shows 55% of the active cases are recuperating under home isolation.
The number of patients admitted in various hospitals is 24,667, which is 25% of the total active cases. Despite that, there are very few vacant beds. Hundreds of patients requiring admission, especially those in need of critical care, can be seen waiting outside the emergency of various private and public hospitals.