COVID-19: Supreme Court directs States to fix reasonable charge for Ambulance Services
Hearing petitions regarding streamlining healthcare services amid COVID-19 crisis, Apex Court today directed all states to fix a reasonable rate for providing ambulance services to COVID patients. Expressing concerns over overcharging by ambulance service providers, the Supreme Court said that the state governments should also ensure that there are a sufficient number of ambulances available in each district to take COVID patients to hospitals.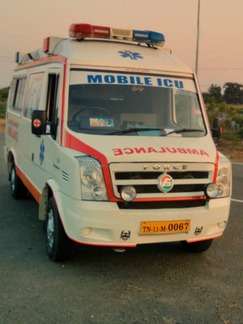 "States are bound to carry out the advisory issued by the Centre to deal with pandemic," said the Supreme Court, which had earlier directed the Centre to cap COVID-19 testing charges in various states. However, it had refused to fix an upper ceiling on the cost of COVID treatment in private hospitals across the country.
The judgement is expected to bring relief to hundreds of coronavirus patients who are being charged exorbitant amounts by private ambulance service providers as most state-run ambulance services struggle to improve their fleet. In a case from Pune, the district administration had filed a case against an ambulance service provider charging a coronavirus patient ₹ 8,000 for a seven-km ride on June 25.
Meanwhile, India has been continuously reporting high number of recoveries and a total of 70,880 recoveries have been registered in the last 24 hours in the country, according to Union Health Ministry data. Maharashtra has alone contributed more than 14,000 and Andhra Pradesh has contributed more than 10,000 to the single day recoveries. With this, the total number of recoveries has touched 35,42,663 taking the Recovery Rate to 77.65%. Nearly 60% of the new recovered cases are being reported from five States, viz. Maharashtra, Tamil Nadu, Andhra Pradesh, Karnataka and Uttar Pradesh.
Meanwhile, record 96,551 new cases have been reported in the last 24 hours, the Ministry data showed. Of this, Maharashtra alone has more than 23,000 and Andhra Pradesh has more than 10,000. Nearly 57% of the new cases are reported from only five States. These are the same States that are also contributing 60% of the new recovered cases.
The total number of active cases in the country stands at 9,43,480 as on date. Maharashtra is leading this tally with more than 2,60,000 cases followed by Karnataka with more than 1,00,000 cases.
Nearly 74% of the total Active Cases are in nine most affected States. Maharashtra, Karnataka and Andhra Pradesh contribute more than 48% of the total active cases. As many as 1,209 deaths have been registered in the past 24 hours. Maharashtra has reported 495 deaths followed by Karnataka with 129 deaths, whereas Uttar Pradesh has logged 94 deaths.
Meanwhile, the Centre has directed states that there should be no restriction imposed on inter-state movement of medical oxygen. The Union Health Ministry said that states need to strongly reinforce this. "It is the responsibility of every state and Union Territory to ensure hospitalised Covid-19 patients receive oxygen," it said.