Occupational Hazard and the Risk of Exposure to Infection primarily to determine Vaccination Priority: Dr Harsh Vardhan
On the issue of how the government plans to roll out the COVID-19 vaccine by prioritizing target groups in the entire population, Union Health Minister Dr Harsh Vardhan clarified that it is anticipated that supplies of COVID-19 vaccines would be available in limited quantities in the beginning. While interacting with his Weekly Sunday Samvaad with social media users he said, "In a huge country like India, it is critical to prioritize vaccine delivery based on various factors such as per risk of exposure, comorbidity among various population groups, the mortality rate among COVID Cases, and several others." He also added that India is looking at the availability of several different types of vaccines, of which some may be suitable for a particular age group while others may not be.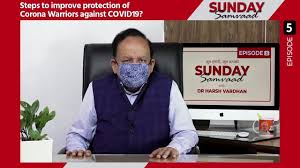 Reiterating that the most important component of the planning is the cold chain and other logistics which need to be planned appropriately to ensure no glitches occur in vaccine delivery even at the last mile, Dr Harsh Vardhan highlighted the need of the massive advocacy required for building community sensitization activities to understand the reasons for vaccine hesitancy and address them appropriately. Categorically denying the rumours of the Government prioritizing young and working-class for the COVID-19 vaccine for economic reasons, Dr Harsh Vardhan said, "the prioritisation of groups for COVID-19 vaccine shall be based on two key considerations: Occupational hazard and risk of exposure to infection, and the risk of developing severe disease and increased mortality."
Putting on his doctor hat, he explained to a respondent that the Phase I trials are done primarily to establish the safety of the product; Phase II Trials measure immunogenicity as a primary endpoint and safety as a secondary endpoint; In Phase III clinical trials, both safety and immunogenicity continue to be measured as secondary endpoints; efficacy being the primary endpoint for this phase of a clinical trial.
On the issue of Emergency Use Authorization of COVID vaccines in India, the Minister said that the issue is being deliberated at present. "Adequate safety and efficacy data is required for emergency use authorization vaccine approval for ensuring patient safety. Further course of action will depend on the data generated," he added.
He informed that COVID-19 Vaccines currently in trial in India are 2 dose and 3 dose vaccines. Vaccine by Serum Institute of India and Bharat Biotech require 2 Doses while the Cadila Healthcare vaccine requires 3 Doses. For other vaccines in preclinical stages, the dosing is being tested, he stated.
On the need to include other novel candidates as COVID Vaccine, he said, "Considering the large population size of India, one vaccine or vaccine manufacturer will not be able to fulfil the requirements of vaccinating the whole country. Therefore, we are open to assessing the feasibility of introducing several COVID-19 vaccines in the country as per their availability for the Indian population." Sharing his views on Public-Private Partnership during the Pandemic, Dr Harsh Vardhan further said that the present situation demands multiple vaccine partners to ensure maximum vaccination coverage to the Indian population and the use of a single vaccine from a certain company should not be seen through a negative lens.
The Minister requested people to not share any content related to health and safety without double-checking its veracity. He added that as we learn more about the novel coronavirus and more vaccine candidates start their Phase II and Phase III Trials, there is bound to be a lot of fake and incorrect news on social media that is perpetrated by people with vested interests.
On the matter of cases of reinfection, Dr Harsh Vardhan stated that though there are sporadic reports of reinfection surfacing in various states, careful analysis of ICMR database reveals that many of these cases have actually been misclassified as reinfections. He added that it is very important to differentiate mislabeled reinfection from actual reinfection. "Actual reinfection would mean a fully recovered person getting infected by a freshly introduced virus in his/her body, belonging to the same or different strain. ICMR is commissioning a study to understand the true burden of re-infected cases. Results will be shared in a couple of weeks", he said.
Dr. Harsh Vardhan responded to a volley of questions fielded by his social media interactors on the fifth episode of Sunday Samvaad. He also shared the possibility of increased novel coronavirus transmission during winters as it is a respiratory virus and the transmission of respiratory viruses is known to increase during the colder weather. "These viruses are known to thrive better in the cold weather and low humidity conditions. In view of these, it would not be wrong to assume that the winter season may see increased rates of transmission of the novel coronavirus in the Indian context too," he noted. Adhering to the Covid appropriate behaviours of wearing masks/face covers, especially when in public places, regularly washing of hands and maintaining of respiratory etiquette ill help us to contain the spread of the diseases, he reiterated firmly.
Dr. Harsh Vardhan shared the good news of the rollout of the FELUDA Test in the near future. Based on tests in over 2000 patients during the trials at the Institute of Genomics and Integrative Biology (IGIB) and on testing in private labs, the test showed 96% sensitivity and 98% specificity.