India sustains trend of consistent low level of Active Cases, Govt Unlocks almost everything
India has registered 86,821 new Covid-19 cases, taking the tally past the 63 lakh mark. With 1,179 fatalities in 24 hours, the country's death toll reached 98,708. Keeping a "continuous upward trajectory", India's recovery rate has touched 83.33 per cent. Meanwhile, the government took a decisive step towards unlocking almost everything on Wednesday, with the Ministry of Home Affairs (MHA) lifting restrictions on cinema halls, schools, and swimming pools as part of its fifth tranche of guidelines to revive business and other activities.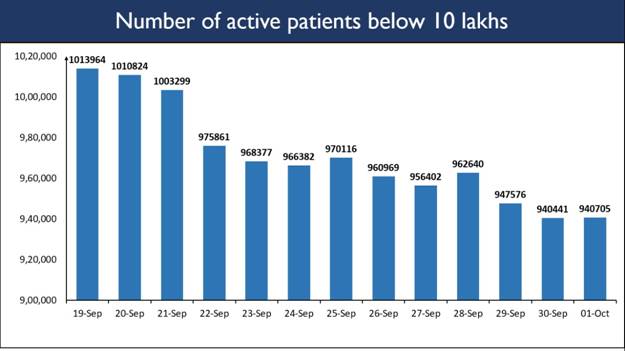 With a very high number of COVID patients recovering every single day, India's steady trend of posting high level of daily recoveries also continues. 85,376 recoveries have been registered in the last 24 hours in the country. India's total recoveries stands at 52,73,201 today. Higher number of single day recoveries has resulted in continuous increase in the national recovery rate, which is currently pegged at 83.53%.
The rise in total recovered cases has been steep. The last 10 lakh recoveries were added in just 12 days. Over 77% of the total recovered cases are recorded in 10 States/UTs. Maharashtra has contributed the highest number to the total recovered cases followed by Andhra Pradesh and Tamil Nadu.
The active cases in India are 9,40,705. India reported 9.4 lakh active cases earlier on 11th September, 2020. According to Health Ministry data, 76% of the active cases are in 10 States/UTs. As on date, the active cases contribute only 14.90% to the positive caseload of the country.
A total of 86,821 new confirmed cases have been reported in the last 24 hours in the country. 76% of the new cases are concentrated in ten states. Maharashtra contributed more than 18,000 to the new cases. Karnataka and Kerala, both contributed more than 8,000. Unfortunately, 1,181 deaths have been registered in the past 24 hours. 82% of new deaths are reported from 10 States and UTs. 40% of deaths reported yesterday are from Maharashtra with 481 deaths followed by Karnataka with 87 deaths.
The global tally of coronavirus cases stands at 34,146,369. While 25,409,820 have recovered, 1,018,173 have died so far. The US, the worst-hit country, has 7,447,099 cases. It is followed by India, which has 6,312,584 cases, Brazil (4,813,586) and Russia (1,176,286).