DR. HARSH VARDHAN CHAIRS 147TH SESSION OF WHO EXECUTIVE BOARD, FOCUSES ON IMPORTANCE OF 'HEALTH FOR ALL'
The 147th session of WHO Executive Board was digitally chaired through Video Conference by Dr. Harsh Vardhan, Union Minister for Health and Family Welfare. It was attended by the Distinguished Members of the WHO Executive Board, Honorable Ministers, Excellencies and other Member State representatives, DG-WHO, Regional Director of WHO South-East Asia, Regional Directors of other Regions, Heads & Representatives of UN Agencies, Partner Organizations and Health-care Workers from around the world.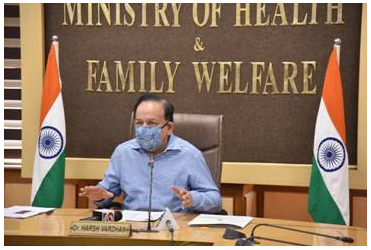 Poverty, Hunger, Inequality, Climate Change, Pollution, Violence are some of the challenges mankind was already facing but an addition of the Pandemic has worsened the situation. The Union Health Minister said that the year 2020 has been the year of collaborative action and by choosing optimism over being overwhelmed by the unprecedented condition we can choose a better future. He stressed on the fact that there is no better future without Health For All. A lesson we knew; and a lesson that we have now re-learnt and All the Member States of WHO share the same philosophy: Health above all.
While addressing each member nation, Dr. Vardhan said that by pooling resources and collaborative efforts humankind has conquered its adversaries. WHO believes in the principle that the enjoyment of the highest attainable standard of health is one of the fundamental rights of every human being irrespective of race, religion, political belief, economic or social condition and therefore works towards effective and responsive discharge of public health obligations.
He said that human beings have been ignoring health system strengthening and preparedness and the pandemic has made humanity aware of the consequences of same. This global crisis calls for investment in global public health for both risk management and mitigation of global health problems. Reforms need to be reinforced to help accelerate progress towards the sustainable development goals and universal health coverage with the most productive, efficient and targeted utilization of resources.
Dr. Harsh Vardhan highlighted that through collaborative action, there was successes in all the Regional Flagship priority areas. Continuous contribution to regional and global public health issues through advocacy, technical collaboration, research, innovations, digital health and partnerships aimed at improving the accessibility and affordability of health services and high-quality essential medicines and products are need of the hour.
The Union Health Minister congratulated the doctors and health-workers for their relentless efforts, rendering selfless services to combat the deadly disease. He also mentioned that all Member States acted with speed, scale and solidarity to control and curb the spread of COVID-19 from the beginning of the outbreak.
He brought to light that Christmas, Easter and New Year Celebrations are lined up next month but people need to be vigilant and take necessary precautions while celebrating the festivals to avoid falling prey to the virus. He wished good health, peace and prosperity for all and said that identifying and acting on the lessons learnt from the current crisis, a robust and resilient health systems can be achieved that can promote a sustained economic recovery and a healthier future for people across the world.