CUMULATIVE POSITIVITY RATE CONTINUES TO DECLINE AS TESTS CONDUCTED CROSS 13.3 CRORE
India has registered remarkable success in its fight against Covid 19. The number of daily new cases registered in the last 24 hours was 37,975 and has not crossed the 40,000 mark in last 6 days. For the last 17 days in a row, daily new cases have been sustained below the 50,000 mark.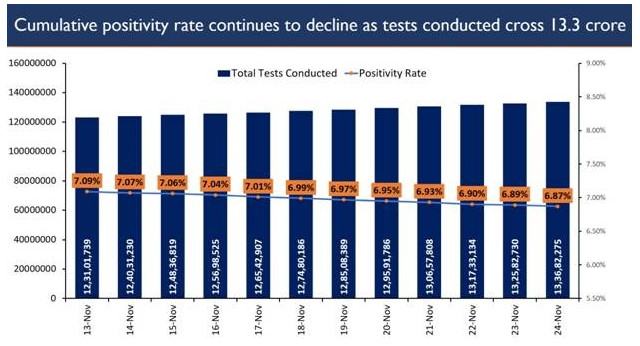 With 2,134 labs across the country, India's testing infrastructure has seen a significant boost. Around 10,99,545 samples were tested in the last 24 hours. Keeping in line with its commitment to conduct more than one million tests every day, India's total cumulative tests cross 13.3 cr (13,36,82,275).
The cumulative national Positivity Rate is less than 7% and stands at 6.87% today. To ensure that the cumulative positivity rate is sustained at low levels and is following a downward trajectory, an average of more than 10 lakh tests were conducted on a daily basis.
Higher volumes of testing eventually lead to low Positivity Rate and currently the daily positivity rate is just 3.45%. In another news, the tests per million (TPM) has increased to 96,871 tests and over the past few weeks there has been a sustained decrease in the number of active cases.
The gap between recovered cases and positive cases is increasing gradually with the recovered cases outnumbering the positive cases. 42,314 cases recovered and discharged in the last 24 hours.
The Active Caseload has fallen to 4,38,667. Presently the Active Caseload is declining rapidly and is just 4.78% of India's total positive cases. Also the Recovery Rate has increased to 93.76%. Total Recoveries as of today are 86,04,955 .
75.71% of the new recovered cases in the past 24 hours are from 10 States/UTs. The state with highest number of recoveries is Delhi with 7,216 single day recoveries followed by Kerala with 5,425 and Maharashtra with 4,153 recoveries.
However new confirmed cases have been reported in the last 24 hours in the country and 77.04% of these new cases are concentrated in ten States/UT. Delhi is leading the number of new active cases with 4,454 cases followed by Maharashtra.
India's case Fatality Rate has reduced significantly over months. 73.54% case fatalities have been reported in 10 States and UTs in past 24 hours and 480 deaths have been registered in the past 24 hours. Delhi tops the chart with 121 deaths followed by West Bengal and Maharashtra with 47 and 30 new deaths, respectively.