India Reports 37,148 fresh COVID-19 cases, Govt warns against use of N-95 masks with valved respirators
India reported 37,148 cases and 587 deaths in the last 24 hours, taking the total number of coronavirus infections to 11,55,191 including 28084 casualties, 4,02,529 active cases and 7,24,578 people who have been treated and discharged so far, according to the data by Ministry of Health and Family Welfare.
The Health Ministry and the Indian Council of Medical Research (ICMR) have suggested a set of short-term and medium-term actions for state governments to enhance the country's Covid-19 testing capacity.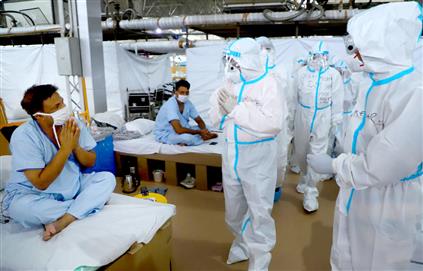 AIIMS Director Dr Randeep Guleria, who is part of the core team monitoring the pandemic in India, has reportedly said that data from the national capital suggests that the Covid curve is flattening and Delhi "may have crossed the peak".
Meanwhile, the Centre has written to all states and union territories warning against the use of N-95 masks with valved respirators by people, saying these do not prevent the virus from spreading out and are "detrimental" to the measures adopted for its containment.
The Case Fatality Rate in the country continues to register a steady downfall. It has dropped to 2.46%, according to the Ministry data. India has one of the lowest Case Fatality Rates in the world. Effective clinical management of the moderate and severe cases through a well executed Standard of Care protocol has ensured high rate of recovery among the COVID patients. The Centre is handholding and supporting the State/UT governments in collectively combating COVID-19. One such initiative is e-ICU program of AIIMS, New Delhi. Aimed at reducing mortality, AIIMS has mentored and supported 43 big hospitals in 11 States through shared experiences and technical advice from domain experts in clinical management of ICU patients. This has substantially boosted their capacity in treatment of critical care patients. More than 7 lakh persons have been cured of COVID-19 and discharged till now. This has further expanded the difference between those who are active COVID patients and the recovered persons (7, 00,086) by 3, 09,627. 22,664 COVID patients have recovered from COVID-19 in the last 24 hours. The recovery rate as of now is at 62.62%.